2011 Project Spotlight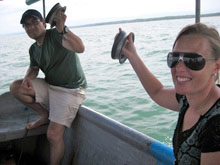 The Conservation Clinic works with attorneys and environmental professionals in Costa Rica to develop novel legal approaches to advance conservation in the region. In the past the Clinic has assisted Costa Rica and Latin American NGOs across a wide range of issues including climate change, the human right to indigenous property, civil responsibility for pesticide contamination and sea turtle conservation. The Conservation Clinic is limited to qualified applicants selected by the faculty based on their background and language skills, as well as project needs.
Clinic projects in 2011 ranged from desk studies to client-centered law and policy projects. This year's projects included the development of manual for establishing environmental law clinics at universities in Central America and the Dominican Republic, and the creation of a synthesis for policy makers on international and domestic approaches to sea turtle conservation and management in Nicaragua, Costa Rica, and Panama. Clinic participants also researched the viability of protecting rural community water supply through land conservation, the displacement of traditional coastal communities by tourism development, and the legal challenges associated with prioritizing local community enterprises in granting concessions for services in protected areas.
2011 Costa Rica Conservation Clinic Projects: