Community Watershed Protection Through Land-Based Initiatives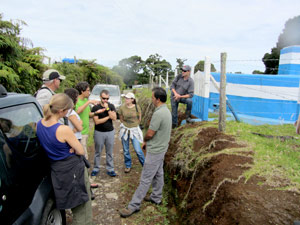 Protecting water quality and quantity is a growing concern around the globe. In Costa Rica, community based water providers, which serve close to one million people throughout the country (mostly in the lesser-developed rural regions) are no exception to this concern. The government buying private land for public benefit is nothing new, but as the pressure for clean water becomes more evident and equitable distribution continues remains an issue, community based water associations (CBWAs) are engaging in private conservation efforts to ensure long-term protection of their water sources (including its water quantity and quality).
To better understand the avenues that might be of assistance to the CBWAs, the group first investigated the different land-based preservation techniques being used in Costa Rica, such as conservation easements and payments for environmental services. Impressed with the relatively good organization of some CBWAs and the work of Nectandra Institute, a Costa Rican NGO that has provided no interest loans for purchasing land for private conservation efforts, the group developed a white paper on how the Government of Costa Rica could facilitate these efforts and offset interest rates for CBWAs that wish to buy critical land within their watershed.
While currently there is no ecological-specific loan offered by commercial lenders in Costa Rica, ultimately, this group believes that banks and the Government could implement a successful public-private partnership that would be of value to all parties involved. In recognition of the important services that the CBWAs (and other NGOs involved in private conservation in the country) provide by serving as stewards of the land and their contribution to its management, loan programs should be developed in Costa Rica, and throughout the world, for ecologically-motivated purposes. By owning the land surrounding their water resources, CBWAs offer a valuable public environmental service by increasing monitoring protections, restoring the land, and helping to contribute goods and services essential for human livelihoods. The CBWAs, meanwhile gain an important avenue to protect their water resource.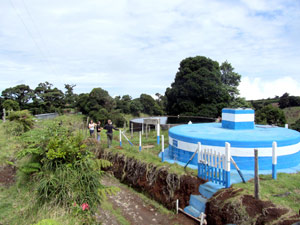 A number of legal and policy challenges were identified with current land protection mechanisms. Unsurprisingly, competing land uses and land conversion is a critical concern. CBWAs recognize that land management decisions are water resource decisions; however, financing for the water and sanitation sector remains a major obstacle. With proper support and incentives for loan offsets or special interest rates, more CBWAs will be able to purchase private lands as a means to protect not only their water, but also contribute to the general public's benefit. The Government of Costa Rica has played an essential role as an innovator for ecological protections. This group believes that the Government's continued dedication to conservation efforts will further that legacy.
Resources:
Allen, Jennifer (University of Florida); McCrary, Micah (University of Florida); Tellini, Avellina (Universidad de Costa Rica).
Report and presentation forthcoming.