Costa Rican Water Law Reform and Wild & Scenic Rivers Proposal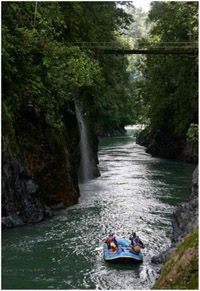 This project was developed to provide feedback on a new water law proposed for Costa Rica. The current water law was passed in 1942 and many believe it is no longer a useful tool for governing Costa Rica's water resources. Clinic students compared the water law for the state of Florida with the proposed Costa Rican law and offered suggestions for improvement based on Florida's experience. The client for this project, the Environmental and Natural Resource Law Center (CEDARENA) has recently initiated a citizen petition process to take the new water law to the Costa Rican Legislative Assembly for a vote. CEDARENA has collected the signatures of over 100,000 citizens, which requires that the law be voted on by the Assembly within the next two years.
Clinic faculty and students took advantage of the opportunity presented by the citizen's water law initiative to craft language that would create a delegated administrative program for establishing"rios escenicos y pristinos" in the environment ministry and allow citizens to petition to designate rivers for the program. The Clinic's language was included in the draft bill submitted to the National Assembly by CEDARENA.
Resources:
Cover Ruiz, Viviana (University of Costa Rica); Reilly-Brown, Joanna (University of Florida); Saavedra, Veronica (Florida Coastal School of Law). "El Pais Verde & the Sunshine State: A Comparative Analysis, Conclusions, and Recommendations for Costa Rica Water Allocation Law Reform."
Schramski, Sam (University of Florida); Prado, Sofia (University of Costa Rica); Bohan, Brent (University of Vermont). "Ríos Prístinos, Escénicos y Recreativos: A Proposed Legal Framework to Protect Costa Rica's Wild, Scenic and Recreational Rivers."
Paniagua, Franklin (CEDARENA); Castro, Rolando (CEDARENA); Schramski, Sam (University of Florida); Ankersen, Thomas (University of Florida); and Hamann, Richard (University of Florida). "A Wild And Scenic River Program For Costa Rica: Draft Language Included In The Citizen's Water Law Popular Initiative Process As Submitted To The National Assembly (September, 2009)."