Enforcement of Sea Turtle Protection Laws in Costa Rica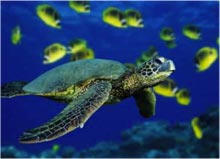 The client for this project, The Sea Turtle Conservancy, asked the Conservation Clinic to examine the effectiveness of domestic and international legal instruments related to the protection of sea turtles in Costa Rica. Despite numerous reports of violations, non-governmental conservation organizations believed there had been no enforcement cases brought under sea turtle protection legislation passed in 2002. To evaluate whether sea turtle protection laws were being effectively implemented in Costa Rica, clinic students reviewed statistics on enforcement from Costa Rican environmental protection agencies, and conducted interviews with people who had first-hand knowledge of apparent violations, including those that were reported to the authorities. Because of the way the Costa Rica prosecutor's office aggregates data on violations, the extent to which alleged statutory violations were recorded and prosecuted could not be determined. However, based on oral interviews with individuals who had reported violations, or had witnessed apparent violations, the clinic concluded that there is evidence to suggest that Costa Rica is not taking its legal authority to protect sea turtles seriously enough. Conclusions and recommendations can be found in the final project report.
Clinic faculty and students took advantage of the opportunity presented by the citizen's water law initiative to craft language that would create a delegated administrative program for establishing"rios escenicos y pristinos" in the environment ministry and allow citizens to petition to designate rivers for the program. The Clinic's language was included in the draft bill submitted to the National Assembly by CEDARENA.
Resources:
Botifoll, Sergio (University of Vermont); Castillo, Clarissa (University of Costa Rica); Coleman Tio, Salvador (University of Puerto Rico); Suárez, Catalina (University of Costa Rica). "Aplicación de la Legislación Costarricense Relacionada con Tortugas Marinas."