Environmental Product Declarations in Costa Rica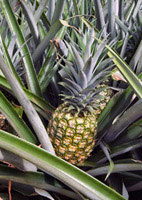 Pineapple is Costa Rica's second most important agricultural export. Unfortunately, the recent expansion of pineapple production has led to environmental damage and subsequent public outcry. Producers require a tool that can provide them with a yardstick to measure their environmental performance, and at the same time give the more environmentally responsible producers an advantage in the marketplace. Additionally, the affected public and consumers have the right to know about the environmental effects of these products. This Clinic project, directed by a University of Florida doctoral student, was developed to assess the potential for a new type of environmental label for pineapples and other products in Costa Rica that could fulfill these needs. The label, called an Environmental Product Declaration (EPD), is a quantitative measure of a product's environmental performance based in life cycle assessment. EPDs also allow retailers and end consumers to make an informed decision about their purchase. An EPD for pineapple would be the first in the world for a fresh fruit product.
The Clinic project included a workshop for industry and government representatives and other interested parties to discuss the feasibility of an EPD system in Costa Rica, with pineapple as the first category. A study of the potential of developing an EPD program in Costa Rica, incorporating feedback from the workshop, will be published in a report for distribution to policy makers and other parties. Next steps for this project include determining the level of interest in developing an EPD system in Costa Rica and among buyers in Europe and North America, and refining the recommendations for implementation with increased stakeholder input. .
Resources:
Ingwersen, Wes (University of Florida); Koshal, Carli (University of Florida); Jeancharles, Milagros (University of Florida); Acuña, Diego (University of Costa Rica). "Ecolabeling for Pineapple in Costa Rica."