Nutrient Management in the Tempisque River Basin, Costa Rica: Synthesis and Recommendations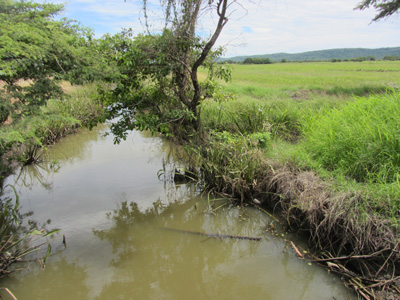 Located within the Guanacaste region in northwest Costa Rica, the Tempisque River Basin has undergone significant land use changes since 1978 when the Arenal-Tempisque Irrigation Plan commenced. The Plan resulted in a series of flood control and irrigation canals that divert Caribbean bound water across the continental divide to the dry Pacific region, facilitating an agricultural boom. In order to increase crop yields, agricultural producers regularly apply nutrient-rich fertilizer to the soil, which results in runoff into local water sources, including Palo Verde National Park. The increase in agriculture, fertilizer use, industry, and other human activities are potentially causing increased nutrient loads with possible negative impacts such as alteration of downstream ecosystems, decrease in water quality, and eutrophication.
Although Costa Rica's legal framework includes point source discharge regulations, the country lacks regulations to handle nonpoint source pollution. This project focused on the following questions: 1) what data are available on nutrient loading within the Basin, 2) what are the potential sources of nutrient pollution, 3) what are the potential negative impacts of nutrient loading on downstream tributaries of the Tempisque River, Palo Verde National Park, and Gulf of Nicoya, and 4) what approaches should be implemented in order to minimize the potential for negative nutrient loading impacts within the agricultural areas of the Basin? A comparison with nutrient problems and management approaches in South Florida and the Greater Everglades was also undertaken.
Resources: Ironside, Andrew (Ohio State University); Martinez, Victor (Tecnológico de Costa Rica); Pomerance, Caitlin (University of Florida); Reijo, Courtney (University of Florida). "Nutrient Management in the Tempisque River Basin, Costa Rica: Synthesis and Recommendations"