A peek inside the Environmental and Land Use Law Program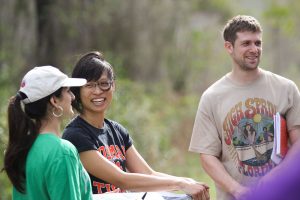 By Elizabeth Turner (JD 15)
In October of 2014 my client first asked for a report examining the legal and policy-based framework overlaying Biscayne Bay and the surrounding area. The client, a marine sciences Ph.D., helped us understand the biology of the bay, but it was up to my colleagues and me to provide the legal analysis.
I quickly developed expertise on federal environmental policy, state water-permitting requirements, and local government comprehensive plans, even taking a three-day course on geographic information system, or GIS, a technology used to create mapping tools for our research. Working with Florida Sea Grant to develop the GIS maps added a valuable and practical skill to my toolbox for future practice.
You may have guessed that our organization specialized in environmental law. But my experience did not come from a job at  a law firm or as a practicing lawyer. Instead, I participated in experiential education at UF Law's Conservation Clinic, part of the Environmental and Land Use Law Program, known as the ELULP.
Most law schools bring guest lecturers to campus, but few offer students so many unique opportunities to interact with interdisciplinary experts both in and outside the classroom. This is what attracted me to UF Law in the first place. I ultimately graduated with my J.D. and a certificate from the ELULP in 2015. While at UF Law, I loved the chance to incorporate my undergraduate science background and my interest in public policy into my legal studies.
UF Law Professor Mary Jane Angelo, director of the ELULP, said this interdisciplinary nature is at the heart of the program.
"Environmental law is inherently interdisciplinary because environmental issues require expertise from a lot of different types of disciplines," Angelo said. "Our program seeks to give students that kind of experience and exposure in a number of different ways because when they are working, they will be working closely with people from other disciplines, whether it's land use planners, biologists or economists."
Perhaps the best example of this approach is the Conservation Clinic. The clinic is open law students and graduate students from from other University of Florida colleges. Students learn about environmental and land use professional practice and applied research and public policy analysis, as illustrated by my project focusing on Biscayne Bay.
"I think the clinic is really important because students are actually doing the kinds of projects that environmental lawyers might do and in the types of teams they might work with in the future," Angelo said.
Another key element of the program that attracts interdisciplinary scholars and professionals to campus is the Public Interest Environmental Conference. For 23 years, the student-run conference has brought together legal practitioners, academics, policymakers and private citizens to discuss key issues surrounding a different environmental topic each year.
Because students organize the conference, law students have the opportunity to plan panels that integrate a variety of perspectives on a focused environmental topic. As co-chair of the 2015 conference, one of my favorite parts was watching diverse attendees pose tough policy questions to the experts and seeing how each panelist contributed their expertise to the discussion. In law school, it is easy to get caught up in legal concepts, while ignoring how the law affects people's lives. At the Public Interest Environmental Conference, questions of impact are front and center. We explore the law's effect on issus and institutions such as local governments, foreign policy, animal rights, ethics and economics.
The annual Environmental and Land Use Law Capstone Colloquium is yet another way UF Law brings leading experts from across the country to interact with UF Law students and faculty during the fall semester.
It has been a century since zoning was first introduced in New York City and the capstone's lecture-series theme is "One Hundred Years of Zoning." The lectures are presented with support from the Richard E. Nelson Chair. This fall's capstone runs parallel with a seminar class taught by Professor Michael Allan Wolf, the Richard E. Nelson Chair in Local Government.
In the past the Nelson Chair supported the annual, one-day Nelson Symposium. The fall capstone is a new incarnation of that idea, in which the Levin College of Law will welcome a distinguished group of experts from law, planning, history, and sociology to campus to discuss zoning's first century.
Wolf explained how the capstone is designed to enrich the legal conversation.
"By bringing experts in from a number of related disciplines to meet with students and faculty from the law school and other UF colleges, we have a unique opportunity to explore many facets of American zoning's fascinating saga," he said.
Directors from other environmental law programs across the country, such as Jason Czarnezki, associate dean and executive director of environmental law programs at the Elisabeth Haub School of Law at Pace University, recognize the unique value of the series.
"The Environmental Capstone Series provides an amazing opportunity for scholars to engage law students in discussing the cutting-edge environmental issues of our time, ranging from climate change to food security to energy policy," Czarnezki said.
The ELULP's focus on experiential learning also positions students to be successful in the legal field. Just ask Adrian Mahoney (JD 16), who recently won the 2017 John A. Knauss Marine Policy Fellowship. The Knauss Fellowship is awarded to interdisciplinary graduate students with an interest in ocean and coastal resources and the national policy decisions affecting those resources.
One of two fellows from the state of Florida, Mahoney cites the ELULP as the key to his success.
"The ELULP provided me the substantive legal knowledge I needed to succeed while also exposing me to various nuances and intersections with other professions and areas of law," Mahoney said. "It is an honor to have received this fellowship, and it would not have been possible without the support and dedication of the ELULP faculty."