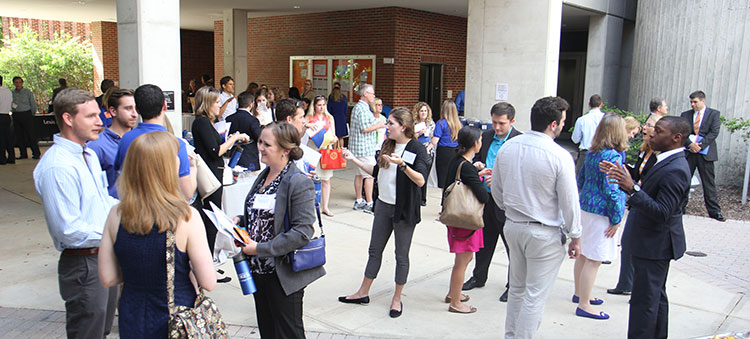 Congratulations on your admission to UF Law! We look forward to welcoming you to one of our Admitted Students Days.
Dates:    Friday, March 20, 2020     (J.D. only) 
                  Friday, April 3, 2020           (J.D. and LL.M.)
Admitted Students Day (ASD) begins with a continental breakfast, and features information sessions, student and alumni panels, a mock class, catered lunch and tours of the law school. There is also a housing fair featuring local apartment complexes and a student organizations fair. Dean Laura Rosenbury, members of our faculty, current students and UF Law alumni will be available throughout the day and at the closing reception!
A meet-and-greet reception where admitted students can get to know each other in a relaxed atmosphere will be held on Thursday evening before each event.
Register now and save the date for UF Law ASD!
Hotel and travel reimbursements: Documented travel expenses (ex. airfare, rental car, etc.) will be reimbursed up to $500*.  A block of rooms has been reserved at Aloft Gainesville for all students attending ASD.  Rooms at Aloft will be provided free-of-charge to the students and all booking will be handled by the University. Free hotel accommodations are first-come, first-serve so be sure to register early. You may also need directions to campus and parking information.
Visit UF and Gainseville: If time allows during your visit to UF Law, we encourage you explore UF's beautiful 2,000 acre campus! UF offers general campus tours and also hosts world-class exhibits and museums, including the Florida Museum of Natural History and the Samuel P. Harn Museum of Art.  To discover cultural and educational activities on campus and in Gainesville, visit https://www.visitgainesville.com/ 
If you cannot attend either event, we are always happy to host you for a tour of the law school and/or class visit while classes are in session. We look forward to seeing you soon and welcoming you to UF Law!
*Full reimbursement details will be communicated to students prior to their visit. Specific questions regarding travel reimbursement should be directed to Admissions@law.ufl.edu.