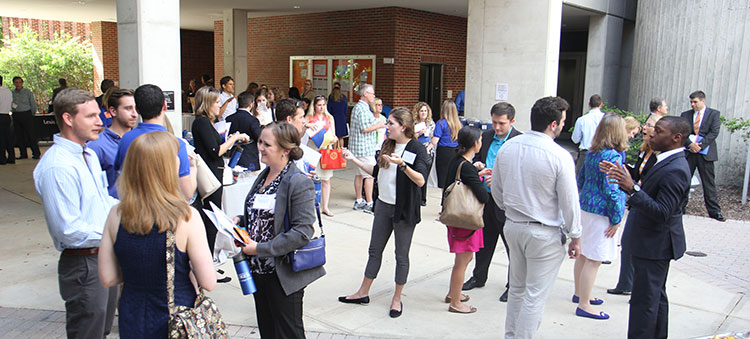 Congratulations on your admission to UF Law! We look forward to welcoming you to one of our Admitted Students Days.
Dates:    Friday, March 20, 2020     (J.D. only) 
                  Friday, April 3, 2020           (J.D. and LL.M.)
Admitted Students Day (ASD) begins with a continental breakfast, and features information sessions, student and alumni panels, a mock class, catered lunch and tours of the law school. There is also a housing fair featuring local apartment complexes and a student organizations fair. Dean Laura Rosenbury, members of our faculty, current students, guest speakers and UF Law alumni will be available throughout the day and at the closing reception!
Admitted Students Days include a hospitality suite where admitted students can get to know each other in a relaxed atmosphere at the event hotel on Thursday evening beginning at 6:00 PM.
Register now and save the date for UF Law ASD!
Hotel and travel reimbursements: Documented travel expenses (ex. airfare, rental car, etc.) will be reimbursed up to $500.* Students who are planning to fly to Gainesville and request travel reimbursement are highly encouraged to book flights early to defray costs.
*Travel reimbursement is available for reasonable travel costs:
Maximum of $500 for students traveling to UF Law by air;
Maximum of $300 for students traveling to UF Law by automobile:

Personal vehicle mileage specific to visit (x $0.445/mile) plus tolls
UF contract rental vehicle (compact car only), plus fuel, plus tolls

To make a reservation, call the State of Florida Reservations & Customer Service at 1-877-690-0064 and reference Account Number 43A3255. Or, click here to book online! Reimbursement is not available if using any other rental car company.

Allowable expenses include airfare, mileage (personal automobile) or fuel (rental car), rental car costs, taxi/Uber/Lyft fares, and tolls.
All travel expenses must be properly documented, including a copy of the original receipt.
*Hotel Accommodations: A block of rooms has been reserved at Aloft Gainesville for all students attending ASD. Rooms at Aloft will be provided free-of-charge to the students and all booking will be handled by the University. Accommodations are based on double occupancy of two admitted students. Free hotel accommodations are first-come, first-serve so be sure to register early.
If single occupancy is requested, the individual maximum travel reimbursement will be reduced by $100 for each night's lodging.
Meals and any hotel cost exceeding the room rate paid in advance by UF Law are not reimbursable.
Specific questions regarding travel reimbursement should be directed to Admissions@law.ufl.edu.
You may also need directions to campus and parking information.
Visit UF and Gainesville: If time allows during your visit to UF Law, we encourage you explore UF's beautiful 2,000 acre campus! UF offers general campus tours and also hosts world-class exhibits and museums, including the Florida Museum of Natural History and the Samuel P. Harn Museum of Art.  To discover cultural and educational activities on campus and in Gainesville, visit https://www.visitgainesville.com/ 
If you cannot attend either event, we are always happy to host you for a tour of the law school and/or class visit while classes are in session. We look forward to seeing you soon and welcoming you to UF Law!