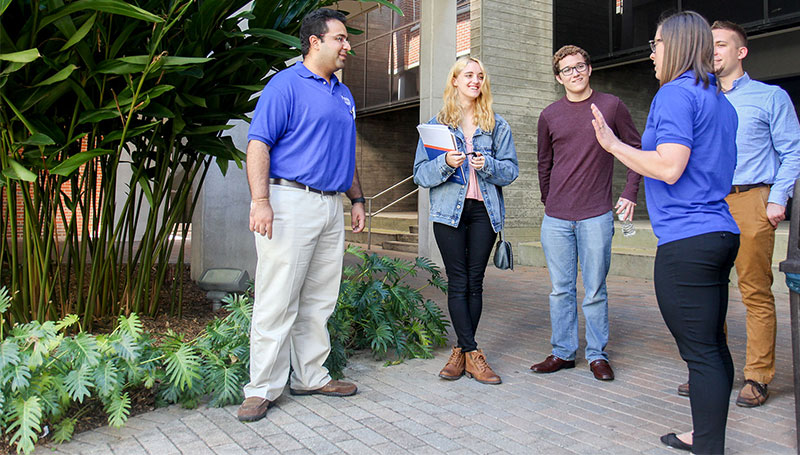 We are thrilled that you are interested in visiting the University of Florida Levin College of Law to explore our campus and the opportunities that await you here. We look forward to meeting you!
Through Friday, April 19, tours are offered Monday – Friday at 10:15 am, Tuesday – Thursday at 3:15 pm, and Friday at 1:00 pm, excluding January 21 (Martin Luther King Day), March 4 – 8  (Spring Break), and March 15 and March 29 (Admitted Student Days).  Class visits for the term will end Friday, April 19.
Beginning Tuesday, April 23 through Thursday, May 16, only tours will be offered on Tuesdays and Thursdays at 10:15 am and 3:15 pm.  The summer schedule of tours will be posted by May 16.
To schedule a tour, please complete our online registration form at least 2 business days prior to your visit.  Please check-in at the Admissions office at least 20 minutes before your scheduled tour (earlier if a class visit is your first stop), and obtain a parking permit if needed.  (Special instructions will be provided in the confirmation email.) 
Please note: For groups of 6 or more, or if you have questions, please call the Office of Admissions at 352-273-0890, or toll-free at 877-429-1297, for assistance.
Follow these links for directions to campus and hotel options.
All admitted students are invited to campus for an Admitted Students Day, where they will meet and network with faculty, alumni, and current students.
For prospective LL.M. students, or if you have questions, please call the LL.M. Admissions Officer at 352-273-0683.