Annual Diversity Event Highlights UF Law's Inclusive Community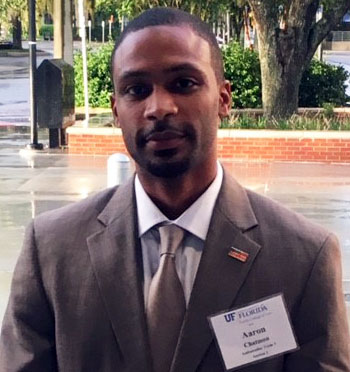 Name and Year:  Aaron Chatmon (JD 20)
Hometown: Waldorf, MD
Undergraduate Institution: B.A. in General Studies, University of Maryland Eastern Shore
Graduate Institution: M.Ed. in Counseling Education, University of Maryland Eastern Shore
Law School Involvement: President, Black Law Students Association; Member, Phi Alpha Delta Law Fraternity, International; Treasure, Mental Health Law Association; General Editor, Journal of Law and Public Policy
Choosing the right law school was difficult because I knew the decision would shape my entire legal career. UF Law made that decision a lot easier.
I have been constantly reassured that I was (1) making the right choice in pursuing a law degree and (2) at the right school to obtain it. The students, faculty, staff and administration here made me feel like I was already a part of the Gator Nation. They made me feel like I belonged here.
The UF Law community showed a genuine interest in me and my goals and made sure that I felt truly a part of the law school community. The best example of this was the Minority Bootcamp, an annual event occurring just before orientation.
The Minority Bootcamp serves as an opportunity for students from diverse backgrounds to meet and network with other incoming students, faculty and staff, and current students, many of whom also share similar backgrounds. The goal is to provide information, guidance, and support to these students as they begin their law school careers and establish bonds that will extend well beyond their time here at UF Law.
During the bootcamp, I was able to meet several minority students, faculty and staff who have since supported me throughout my time here at UF Law. I am truly grateful for all the help they have provided and continued to provide.
They inspired me to become as active as I could to ensure that others could see the greatness in UF Law. Their inspiration led me to run for president of the Black Law Students Association (BLSA). As president, I have worked with my fellow members of BLSA and many of the other minority organizations to provide more opportunities for members of our respective organizations and our incoming students. Our first initiative is enhancing our annual Minority Bootcamp.
While in previous years this event was just a collaboration between BLSA and the Latina/o Law Student Association (LLSA), we decided to expand our reach this year. We wanted to increase the event's impact on minority students and have therefore included Outlaw, our LGBTQ Law Student Association, and the Asian & Pacific American Law Student Association (APALSA). We seek to create a more inclusive event for the minority community and this expansion helps to accomplish this; hence this year's theme, "Together We Are Better," created by Alysia "Aly" Mariani, LLSA President.
This year's bootcamp will feature Senior Legal Skills Professor and Associate Dean for Experiential Learning Silvia Menendez and Professor of Law Kenneth Nunn. These keynote speakers will speak on the importance of diversity and unity as we seek to embrace our differences and grow. The event will also include networking activities, panelist, and the opportunity for the incoming class to get a sneak peak of campus life.
BLSA, LLSA, APALSA, and Outlaw are excited for the opportunity to grow the event and hope that our incoming students see how great the Gator Nation can be when we all come "together."