Kristen O'Connor (JD 21) on the UF Law Experience
Name and Year: Kristen O'Connor (JD 21), Levin College of Law Ambassador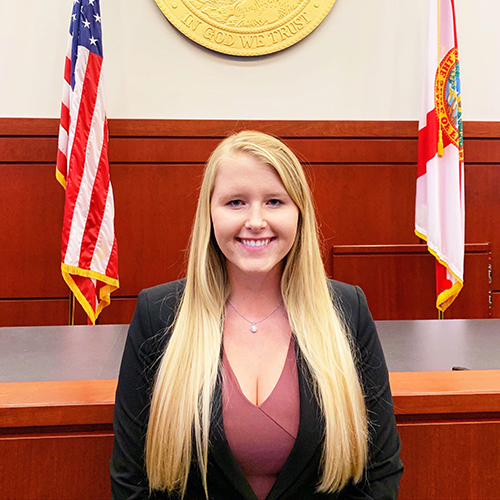 1. Why did you decide to go to law school?
I decided to come to law school because I took several law-related courses as an undergrad at UF, and I really enjoyed them. The prospect of going to law school seemed challenging, but I am very interested in criminal law and I wanted to work in the criminal justice system. In order to have the most impact I figured that being a lawyer was the way to go. I also wanted to have a career in a profession where I am constantly learning and making a difference.
2. What made you decide to become a law school ambassador?
I decided to become a law school ambassador because when I was a first-year student I was impressed by how helpful the 2L's and 3L's were that I encountered, and I wanted to be able to help and be a guide for incoming students in the same way.
3. Has your experience met your expectations? How?
I would say my experience so far in law school has surpassed my expectations. It is pretty incredible how much I have learned in only a year and a half, and how much legal experience outside of school I have already gotten as well. The law school, more so than main campus, feels more like a community since there are not that many law students and I really enjoy that smaller community feel. I am also a member of the Florida Moot Court Team and at the beginning of this year I was able to do an oral argument in front of several Florida Supreme Court Justices and DCA judges. I would have never thought I would get the opportunity to do something like that in my career, let alone be prepared to do something like that after only one full year of law school.
4. How do you maintain inspiration as a law student or law school ambassador to continue towards your goals?
I try to look at all the work I have to do, especially during the grueling finals time, as a blessing rather than a curse; I get to be in law school and work hard to make myself successful rather than I have to do those things. It is also pretty inspirational to go to court, which I do often as a part of my externship with a County Court Judge in Gainesville. I appreciate that opportunity to see how everything I have learned plays out in the real world. It is exciting to watch attorneys argue legal concepts in court that you actually know about and to see how they present themselves. This was especially true for my summer experience because I got to work for the U.S. Attorney's Office and see how the law works when the stakes are high and the attorneys are all highly experienced.
5. How do you encourage creative thinking within the law school?
I think it is very helpful to find a study group because each student may process information differently and have a different way of thinking about it, so it is helpful to work with your classmates and share ideas.
6. What is one characteristic that you believe every leader should possess?
I would say confidence, but not cockiness. I think it is important to believe in yourself and present yourself with confidence, but at the same time it is important to listen to those you are leading and be ready to accept new ideas if the initial plan is not working out.
7. What is one mistake you witness young leaders frequently making? What are a few behaviors or traits that you have seen that derailed a leader's career?
I think all attorneys are leaders in the community. Lawyers are charged with advocating the best that they can on behalf of their clients and I have seen lawyers fail to do this by failing to prepare. This somewhat goes back to the previous question, because if you are prepared, you should be confident and you will be confident if you are prepared, so they go hand in hand.
8. What do you do to ensure you continue to grow and develop as a leader?
At this point, in order to be the best lawyer and leader that I can be, I work hard to learn as much as I can. I also aim to think critically about what I am learning and develop my own ideas about how things work, without becoming so tied to what I think that I am not open to new ideas. Law school is helpful in this regard because we are taught to argue both sides. This skill is helpful in leadership because even if we disagree with others, hopefully we can at least see where they are coming from.