Next Steps: Securing Housing in Gainesville
Housing Part 1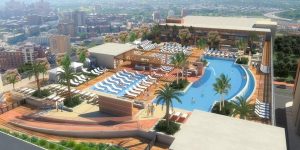 Greetings, incoming students!
Over the course of the next few blog posts I'll discuss some of the things you should be thinking about regarding your relocation. I will also include links to some helpful resources. Securing housing is something you should start thinking soon as housing options can fill up quickly after the end of the semester. I encourage you to begin your search early so you have time to explore all of your options. Consider the following:
Do you want to live on or off campus?

On-campus living is a convenient and, in some cases, more affordable option for many students. UF Law students are eligible to apply for on-campus through Graduate Housing. There are six options to choose from, including single and multi-room apartments, which vary in prices. All are within walking or biking distance to the law school. Students interested in on-campus housing are encouraged to apply 10-12 weeks before their planned move-in date.
Off-campus housing tends to offer more options in terms of housing styles and amenities. The trade-off is often cost, as students will likely pay more to live off-campus. Most housing options in the Gainesville area have leases that run with the school schedule, meaning that many of the complexes will advertise vacancies in April/May.
Tip: Whether you choose to live on or off campus, I encourage you to join your class Facebook group to connect with current UF students who may be willing to share their tips and suggestions for places to research – or avoid!
Do you want to live alone – or with roommates?

Sharing housing typically reduces costs. Having someone to split rent, utilities and other related bills can reduce your cost of living and ultimately any debt you incur. However, if you value your privacy, living alone allows you a more flexibility in housing options and you may find that peace and quiet are worth the additional costs.
Tip: Prioritize what you are looking for in housing (example: rent costs, location, size, amenities, privacy, etc.). Creating this list should help guide your decision.
In Housing Part 2, I'll discuss when you should consider moving and include some tips on leasing options.  As always, I encourage you to connect with your future classmates on the Facebook group to continue the conversation. We look forward to seeing you on campus soon!
Brandon Sykes
Assistant Director for Admissions
University of Florida Levin College of Law