Victoria Adesso (JD 21) Talks About the Culture at UF Law
Name and Year: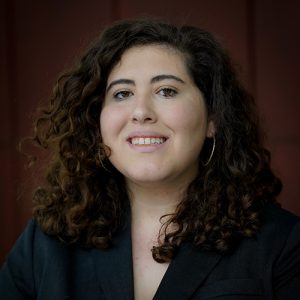 Victoria Adesso (JD 21)
Undergraduate Degrees: Sociology, BA 18; Criminology, BA 18
Law School Involvement: C1L Representative, Gator Law ACLU; Student Recruitment Team Member; Mentor, GatorLaw
Community Involvement: Restoration of Civil Rights Pro Bono
What is the culture like at UF Law?
When deciding on law schools a year ago, culture was one of the biggest factors that I looked for in a law school. Personally, I was looking for a school that not only offers an extraordinary reputation and alumni, but one that advances a diverse and supportive environment, sans the cut-throat and competitive reputation that law school, as an institution, seems to have. I made the choice to go to UF Law in part of its culture, and now, after finishing my first semester, I can say it truly did live up to what I was told when I originally toured: UF Law fosters a supportive, family-like environment.
At UF Law, you will never hear of someone stealing books, hiding materials, or not helping someone who is asking for help. The professors aren't going to embarrass you in front of the whole class, and you will be able to go to them for extra help. Of course, it is still competitive, but the aspect of competition is not anyone's primary goal. UF Law is honestly, far from the stereotypical norm of what you'd expect law school to be like.
Over the past semester, I've bonded with basically my whole section; we all offer to aid each other out when one of us is puzzled. We've honestly became somewhat of a little law school family. I have made great friends that are always there for me, no matter the situation. I've gotten help from 2L's and 3L's. I've made connections with faculty, and have gotten assistance from professors when I need it. Nearly everyone on UF Law's campus will be there for you and support you; everyone is approachable.
UF Law is also extremely accepting; there is a place for every person, every voice, and every interest. For my part, I became involved in pro bono opportunities, such as the Restoration of Civil Rights Project, which helped, before the passing of Amendment 4, convicted felons get their civil rights back. I also serve as a 1L representative for Gator Law ACLU, an organization that also gives back and educates our community. There are a multitude of clubs for any interests, and that celebrate diversity and differences. These clubs are all welcoming.
I'm glad I chose to go to UF Law, as this law school is now the place that I call home.
Go Gators!