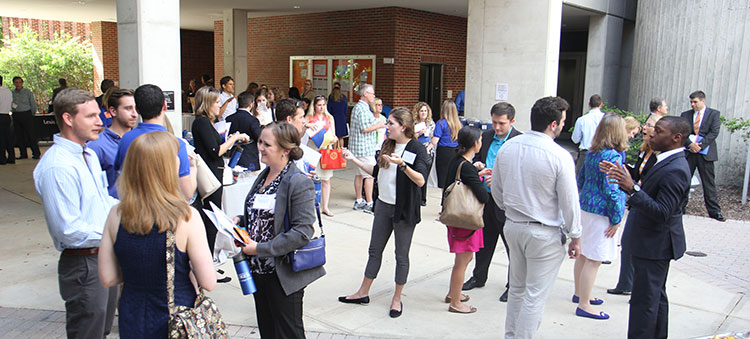 Hello! Congratulations again on your admission to UF Law. We look forward to welcoming you to the UF Law campus for Admitted Students Day.
We will host two programs — Friday, March 18, and Friday, April 8. Both days will feature the same program so you only need to attend one. Admitted Students Day begins with a continental breakfast at 9:30 a.m. and features informational sessions, a mock class and tours of the law school.  Throughout the day and during the closing reception, you will have the chance to mingle with Dean Laura Rosenbury, members of our faculty, current students and UF Law alumni!
A general schedule is below, and you can register for either day here. You may also need directions to campus, additional hotel options and parking information.
If time allows during your visit to UF Law, we encourage you explore UF's beautiful 2,000 acre campus! UF offers general campus tours and also hosts world-class exhibits and museums, including the Florida Museum of Natural History.  To discover cultural and educational activities on campus and in Gainesville, visit http://www.admissions.ufl.edu/visitinguf.html.
If you cannot attend either session, we are always happy to host you for a private visit Monday through Friday while classes are in session. We look forward to seeing you soon and welcoming you to the UF Law family!
Admitted Students Day Program Schedule
Friday, March 18 and Friday, April 8
Check-in and Continental Breakfast
Overview of the Day
Welcome
Overview: Student Services
Student Life Panel: The Student Perspective
Concurrent Sessions:

Funding Your Legal Education: Nuts & Bolts of the Lending Process
Externship and Semester Away Programs
Tour with members of the Student Recruitment Team

Lunch:  BBQ in the Courtyard
Mock Class
Overview: Career Development
Concurrent Sessions:

Clinics & Public Interest Opportunities
Funding Your Legal Education: Nuts & Bolts of the Lending Process
Tour with members of the Student Recruitment Team

Break
Alumni Experiences: The Alumni Perspective
Reception with Administrators, Faculty and Student Leaders