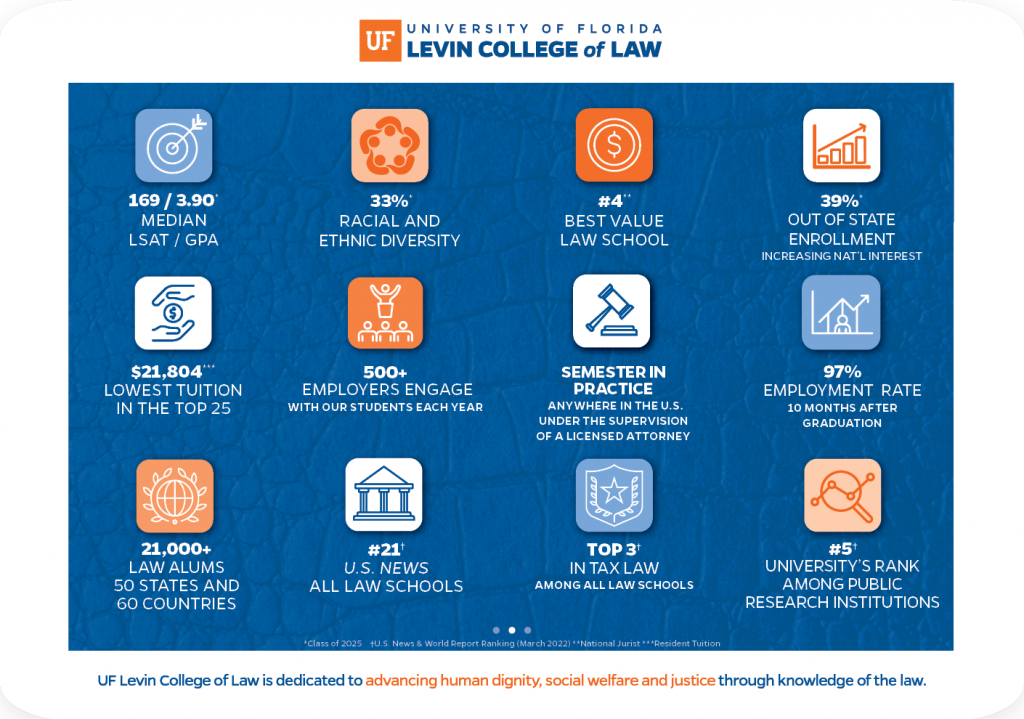 Interact with our class profile image.
Class of 2025 (Fall 2022*)
Each year our Admissions Office recruits and admits some of the country's most promising and diverse students to join the UF Law student body. We are committed to enrolling students with excellent credentials from a wide range of backgrounds. Our commitment to excellence and diversity is reflected in the people who make up our community. We encourage you to visit our campus to meet the students, staff, and faculty who make UF Law so dynamic.
The UF Law Class of 2025 hails from 85 undergraduate institutions across the country, including Baylor, Berkeley, Boston College, Clemson, Colorado, Columbia, Duke, George Washington, Georgetown, Harvard, MIT, Northeastern, Notre Dame, Ohio State, Purdue, Texas A&M, UNC, Washington U., Wisconsin, three Service Academies, six HBCUs and many other colleges and universities.
Number of Applicants
4,021
Acceptance Rate
16.9%
Class Size
196
Median LSAT
169
25%-75% LSAT
162-170
Median GPA
3.90
25%-75% GPA
3.52-3.97
Age Range
20-39
% Women
45%
% Racial and Ethnic Diversity
33%
% Out of State
39%
38 states, 12 countries
Number of Undergraduate Institutions Represented
85 undergraduate and 7 international institutions
Number of First-Generation College Students
30
Number of Students Admitted through Binding Decision
26
Number of STEM Majors
19
Number of Gator Scholars
8
Number of Students Self-Identifying as LGBTQA
25
*Data as of October 5, 2022