UF Law enrolls most diverse class in law school's history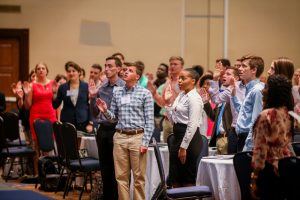 When Dean Laura A. Rosenbury became UF Law's leader last July, she set forth several admissions goals for the Fall 2016 entering class: raise the median LSAT and GPA scores, and enroll a class with at least 30 percent of the students representing racial and ethnic diversity.
The 2016 entering class met and exceeded both of those goals, even setting a record in UF Law's 107-year history.
Admissions statistics indicate that of the 314 1Ls (five more students than last year's entering class), 36 percent identify as ethnically and racially diverse, and nearly half – 47.4 percent – are female. Both statistics are the highest in UF Law's history. The credentials of the 1L class are also the highest in years.  The new 1Ls hold a median LSAT score of 160, up from last year's 157, and a median GPA of 3.6, over last year's GPA of 3.5.
"I thank our staff, faculty and alumni for bringing in this amazing class," Dean Rosenbury said. "And I look forward to continuing the momentum over the next year. The future of UF Law is very bright."
Interim Assistant Dean for Admissions Grant W. Keener explained that in law school, learning occurs not only during exchanges of ideas between professors and their students, but also among students and their peers. Diversity enriches that dialogue and helps graduates in their search for jobs.
"The way students learn in law school, it's a much more active process than in any other program of study," Keener said.
He also noted that a highly diverse student body helps raise UF Law's stature.
"We want to make sure we're even more of a national law school than UF already is," Keener said.
Incoming 1L Kaylin Martinelli said the prestige of UF Law was a main draw, but she wasn't expecting the field to be so competitive. "I am proud of the fact that we've risen the bar so much, although it does add that layer of competition. I'm proud of that."
UF Law applications were up 98 percent from last year. It's the most applications to UF Law since 2011 and significantly higher than the nationwide growth of just 2 percent. UF is among only three law schools nationwide to see an increase in applications of more than 50 percent, according to LSAC data.
"I think that's highly attributable to the dean and her effort to ensure UF is competitive nationwide," said 1L Anna-Lisa Riley, who is a native of Jamaica. She said Rosenbury and UF Law made a concerted effort to ensure the incoming students were high achievers and represented diverse backgrounds.
Keener attributes UF Law's admission success to a number of factors, including new program initiatives and an increase in financial aid, which allows more students to consider UF Law.  Keener said students were also energized by the new direction for the law school under Dean Rosenbury.
"I think there's a lot of excitement surrounding where UF is and where it's headed," Keener said.
This year's 1Ls hail from a mosaic of backgrounds and life experiences, with an age range of 20 to 46.  More than 12 percent of the class comes from a state other than Florida.
Of those just beginning their foray in law school, 30 percent have been out of college between one and four years, while 3.8 percent have been away from school books five years or longer.
Keener attributes UF's success to a collaborative effort between current staff, students, alumni and faculty.
During the summer, the Office of Development and Alumni Affairs, Center for Career Development, and the Office of Admissions collaborated to launch the law school's first-ever "Summer Tour," where more than 600 alumni, summer associates and incoming students gathered for mixers around Florida and in Washington, D.C.
Many alumni also participated in the law school's Alumni Match Program, which pairs admitted students with alumni based on area of interest, hometown, undergraduate institutions, and desired area of practice, among others.
Keener believes UF Law is on a positive trajectory that is likely to continue under Delphine Byrd, who will join the UF Law family on Sept. 12 as the new assistant dean of admissions. Byrd comes from the University of Michigan and University of Michigan Law School, where she served as assistant director of admissions and manager of Michigan's Detroit Admissions Office.
"Delphine is very experienced in admissions and I'm looking forward to supporting her in the transition," Keener said.