Alumna makes history as UF Law's first SCOTUS clerk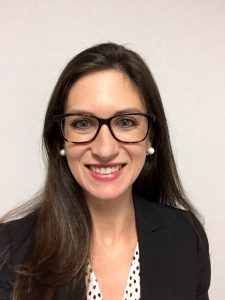 By Richard Goldstein
UF Law alumna Kathryn Kimball (JD 12) has made history as the first alumnus to be named to a United States Supreme Court clerkship. She will clerk for Justice Clarence Thomas during the 2018 term.
Justice Thomas selected Kimball in July; the news was released publicly Sept. 6.
"I'm thrilled and delighted," Kimball said. "Based on everything I know of him as a jurist and person, he is someone I would like to emulate. I am beyond ecstatic about this opportunity."
Typically, 36 Supreme Court law clerks are named each year, and the great majority graduate from Top 10 ranked law schools.
As a public law school graduate, Kimball's selection was a "historic event," according to UF Law Professor Dennis Calfee.
Calfee said Kimball's path should encourage current UF Law students to set their sights on one of the great prizes in the legal field.
"We have students that can be compared with any other students in the country," Calfee said.
Kimball is currently a criminal prosecutor in the Tax Division at the U.S. Department of Justice. She is based in Washington, D.C., where she joined the department through the Honors Program in 2014. She prosecutes tax offenses on behalf of the United States in federal district courts throughout the South.
Before coming to the Department of Justice, Kimball served as a clerk for the Honorable William H. Pryor Jr. on the U.S. Court of Appeals for the 11th Circuit. She also clerked for the Honorable James S. Moody Jr. (JD 72) on the U.S. District Court for the Middle District of Florida in Tampa after graduating No. 1 in her class from UF Law. While at UF Law, Kimball worked as an executive editor on the Florida Law Review.
Kimball said that over the summer she engaged in rounds of rigorous interviews about the Constitution, federal law, and the jurisprudence of the Supreme Court. The interviews started with Justice Thomas' clerks and culminated in an interview with the justice himself.
"She was my law clerk several years ago and was one of the few I hired straight out of law school," said Judge Moody. "She could grasp the issues so quickly and get to the meat of written argument in short order, and she didn't cut corners. She would read the cases so things fell into place for her."
While her credentials are impressive, Kimball said getting to the interview stage required plenty of help from the UF Law community. She also relied on recommendations from Judge Moody and Judge Pryor.  Meanwhile, Justice Thomas has visited UF Law three times since 2010. During one of those visits, he met Kimball at a roundtable discussion.
UF Law Dean Emeritus Robert Jerry II, now a professor at the University of Missouri School of Law, strongly advocated on behalf of Kimball before and after he served as dean. In law school, Kimball worked as a research assistant to Professor Michael Seigel, a former federal prosecutor who specialized in white collar crime.
Seigel, who died in 2015 at the age of 55 after a long illness, made sure to complete a letter before his death recommending Kimball's selection as a Supreme Court clerk.
"Knowing that he was ill, he wrote a letter recommending her and put it on his (computer) drive. He made me aware of that letter," Jerry said. "Part of my letter talked about Mike and how she had worked for him and how Mike was behind her."
As former faculty adviser to the Florida Law Review, Calfee (LLMT 75) knows Kimball from her days as the journal's executive notes and comments editor. When Justice Thomas spent four days this past February in Gainesville to teach Property Rights and the U.S. Constitution, Calfee took the opportunity to discuss Kimball's application with the justice.
"I had a really nice chat with Justice Thomas," Calfee recalled.  He told him, "As a lawyer and as a person, she is top of the line."
The discussion must have had an effect because Kimball said Thomas remembered that conversation, and the Justice noted to Kimball that, in large part, Calfee's and Jerry's unrelenting advocacy convinced him to consider her as his first UF clerk.