Florida Tax Institute draws tax scholars, practitioners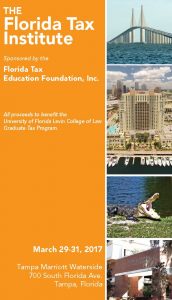 The annual Florida Tax Institute is this week in Tampa, bringing together the top tax scholars and practitioners from across the state and around the country.
This institute is organized by graduates and professors of the UF Levin College of Law, home of the No. 1 public and No. 3 overall tax law program in the United States.
Running Wednesday through Friday, the institute is designed to be practical, informative, engaging and state of the art.
The Florida Tax Institute is presented by the Florida Tax Education Foundation, Inc. to benefit the University of Florida Levin College of Law Graduate Tax Program.
The three-day conference covers business and individual taxation, as well as expanded coverage of estate planning. The tax institute has been developed for attorneys, accountants, trust officers, insurance and financial planners, as well as planned giving professionals from across Florida and the United States.
Among the scheduled speakers are UF Law Professors Michael Friel, Martin J. McMahon and Lawrence Lokken; Georgia State University College of Law Professor Samuel A. Donaldson (LLMT 94); Southern Texas College of Law Professor Bruce A. McGovern (LLMT 96); and University of Georgia School of Law Professor Gregg Polsky (JD 96, LLMT 98).
Other speakers included: Lauren Y. Detzel (JD 77) of Dean Mead; Cristin C. Keane (JD 97, LLMT 98) of Carlton Fields; Summer Ayers Lepree (JD 06, LLMT 07) of Bilzin Sumberg; Ronald A. Levitt (LLMT 84) of Sirote & Permutt, PC; and James B. Sowell (JD 90) of KPMG.
For more information go to www.floridataxinstitute.org/.