Gerald A. Williams
Return to Heritage of Leadership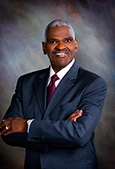 Gerald A. Williams 1950-2010
Class of 1975           
Served as president of the UF Law Black Law Student Association and was among the first African-American graduates of UF Law; Served as Staff Attorney for the National Labor Relations Board before establishing Haygood & Williams, P.A. in West Palm Beach (1981); served as Counsel to numerous public schools in South Florida, including the Palm Beach County School Board until 2010.
"It is not enough to want to be good; to be successful one must aspire to be great." This was the motto of Gerald A. Williams. Born Oct. 9, 1950, in Pensacola, Fla., to the late Fred L. and Ophelia M. Williams, Gerald Williams was conditioned for greatness at an early age. Nurtured through two decades of profound social and cultural change, he emerged as an inspiring and transformational leader.
Mr. Williams was among the first African-Americans to attend the all-white A.V. Clubbs Junior High School in Escambia County, Fla. "That (experience) developed my concept of survival. People didn't want us there … (But) they didn't have a choice but to respect me," Williams told the South Florida Business Journal in 1992. "That time helped me understand the good and bad about this country. There's more good than bad."
After graduating from Pensacola High School, Williams earned a political science degree from the University of Tennessee in 1972. He served as chief justice of the honor court as an undergraduate, which awakened his passion for the law and the impact it has on society. In 1975, he earned his degree from UF Law and was among the college's first African-American graduates.
Williams began his legal career as a staff attorney with the Florida Public Employees Relations Commission and served as staff attorney for the National Labor Relations Board. In 1978, he joined the fourth largest school district in the nation, Miami-Dade County Public Schools, as assistant special counsel.
In 1981, he relocated to West Palm Beach, Fla., and co-founded Haygood & Williams, P.A. with law school classmate J. Michael Haygood. Williams practiced labor and employment law, and their partnership began with just four clients. By 1987, the Miami Review hailed Haygood & Williams as the largest all African-American law firm in South Florida. In 1992, the law firm merged with Atlanta-based Mack, Williams, Haygood & McLean, P.A. Williams was now managing partner of Florida operations for one of the largest African-American-controlled firms in the country.
In 1997, Williams left private practice and returned to Miami-Dade County Public Schools where he served as chief labor counsel and chief officer of labor and legislative relations. In 2001, he was recruited by the superintendent of the School District of Palm Beach County where he rose to chief counsel.
In 2009, Florida Trend Magazine and his peers recognized him as one of Florida's Legal Elite. He was named one of the top government attorneys in the State of Florida.
In addition to his stellar legal career, Williams was devoted to family, loyal to friends and committed to his community through leadership positions in professional and civic organizations, including as general counsel for the Virgil Hawkins Florida Chapter of the National Bar Association.