Judge Makar Publishes Article on Landmark Supreme Court Press Freedom Case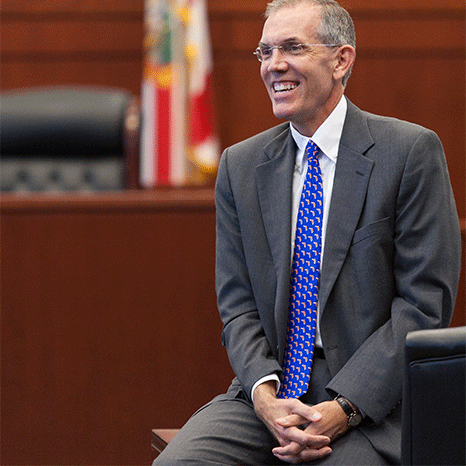 In 1941, The Miami Herald printed two editorials and a political cartoon criticizing members of the judiciary, who held the paper and editor John Pennekamp in contempt of court, sparking a courthouse drama that resulted in a major victory for freedom of the press in the United States Supreme Court.
"Today, people would say, of course courts can't impose fines or imprisonment against journalists who say disparaging things about them, but that's what happened," said First District Court of Appeal Judge Scott Makar (JD 87), discussing his recently published article "Free Press in 1940s Florida: Pennekamp v. Florida."
The article appears in a recent issue of the Journal of Supreme Court History, a thrice-yearly scholarly publication of the Supreme Court Historical Society.
"Today, we have the same sort of tensions between the media and the government," Judge Makar said. "A free and responsible press, and the need to protect a vibrant journalistic community, are as relevant today as they were back in the 1940s." He noted the importance of the federal constitutional right because both the trial court and the Florida Supreme Court had ruled against the newspaper and Pennekamp.
Judge Makar also serves as an Adjunct Professor at UF Law and has taught the Pennekamp case to students in his "Florida, the Constitution and the United States Supreme Court" course. The judge says there are a few modern takeaways, including the journalist's persistence in the face of adversity providing encouragement to those facing obstacles in the pursuit of justice.
During his time at UF Law, Judge Makar was a member of The Florida Law Review and was the founder of the Journal of Law and Public Policy. After graduation, Judge Makar clerked for a federal appellate judge, worked as an associate and then partner with Holland & Knight, headed the appellate division at the City of Jacksonville, and became Solicitor General for Florida, where he argued before the U.S. Supreme Court on five occasions – four of them in just one year, a record for any state Solicitor General in the Court's history.
"The overall experience at UF Law provided me a solid foundation of legal education combined with opportunities to find my own path in the law," said Judge Makar, a Quadruple Gator, who also earned a master's in economics, M.B.A. in finance and Ph.D. in economics from UF.
For students looking to pursue a career in the judiciary, Judge Makar offers some advice. "Plan ahead and be patient," he said. He suggests interning and clerking for judges to make sure the work is enjoyable. Doing so also opens doors for networking opportunities.
His favorite quote in the Pennekamp case comes from U.S. Supreme Court Justice Felix Frankfurter and sums up the role of a judge: "[w]eak characters ought not to be judges, and the scope allowed to the press for society's sake may assume that they are not. No judge fit to be one is likely to be influenced consciously except by what he sees and hears in court and by what is judicially appropriate for his deliberations."