To permanently honor outstanding and notable alumni of the University of Florida Levin College of Law and their contributions to the state and University, the Law Center Association Board of Trustees established the Heritage of Leadership Recognition Society. The Selection Committee determined the initial classes of inductees, barring exceptional circumstances, would be honored posthumously.

Class of 2022
Chief Justice Stephen H. Grimes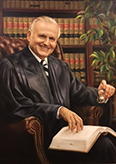 Class of 1954. November 17, 1927 – September 10, 2021
Chief Justice Stephen H. Grimes received his B.S. in Business Administration in 1950 and his LL.B. in 1954, both from the University of Florida. He was a UF Grand Guard Society inductee and recipient of UF Law's Distinguished Alumnus Award.
As a student, Justice Grimes was Editor in Chief of the Florida Law Review, Vice President of the Student Body, and was inducted into Florida Blue Key, Phi Beta Kappa, and Order of the Coif. After joining the Naval Reserves, he was called to service in the Korean War and returned to finish his degree with honors after being discharged. Following graduation in 1954, he began practicing law with Holland, Bevis, McRae & Smith (later Holland & Knight), where he became head of its litigation department. In 1973, Justice Grimes was appointed by Governor Reuben Askew to the Second District Court of Appeal in Lakeland and served as its Chief Judge 1978-1980. In 1987, he was appointed by Governor Bob Martinez to the Florida Supreme Court where he also served as Chief Justice 1994-1996. He left the court in 1997 and returned to Holland & Knight, where he retired in 2016.
Justice Grimes was President of the Greater Bartow Chamber of Commerce and served on the boards of the Polk Public Museum, Bartow Memorial Hospital, Bartow Public Library, and the Polk County Law Library. He served on the Board of Trustees for Polk Community College and later served on the Board of Directors of Elder Care Services.
Gordon "Stumpy" Harris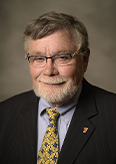 Class of 1965. May 7, 1938 – April 1, 2021
Gordon "Stumpy" Harris received his B.A. degree in Liberal Arts and Sciences in 1961 and his J.D. in 1965, both from the University of Florida. As an undergraduate, he was President of the Interfraternity Council, a member of Florida Blue Key, and was inducted into UF's Hall of Fame. During law school, he was active with Florida Law Review and the Moot Court Team.
Harris was an eminent domain and civil trial lawyer widely recognized for his personal and professional contributions to the UF and Orlando communities. Before law school, he taught at his high school alma mater for two years. After graduating from law school, he joined the firm that later became Holland & Knight in Bartow, Florida. In 1970, he was a founding partner of the Orlando law firm Gray, Harris & Robinson, now known as GrayRobinson. In 2003, he was a founding partner of Harris Harris Bauerle Lopez, where he continued to work until his passing.
Known for his ardent support of UF, Harris was an Honorary Gator Letterman and held football season tickets since 1957. He was a past President of the UF National Alumni Association, Past President of Gator Boosters, a Bull Gator, and served on the boards of directors of both the UF Foundation and the University Athletic Association.
Judge William Terrell Hodges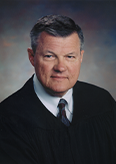 Class of 1958. April 28, 1934 – January 4, 2022
Judge William Terrell Hodges received his B.S. in Business Administration in 1956 and his LL.B. in 1958, both from the University of Florida.
After graduating from law school, Judge Hodges spent 13 years with the Tampa firm Macfarlane, Ferguson, Allison & Kelly. In 1971, he was one of the youngest lawyers ever appointed to the federal bench when he was nominated by President Nixon to become a U.S. District Judge for the Middle District of Florida. He served as a District Judge for the Tampa, Jacksonville, and Ocala Divisions for 50 years, including the Chief Judge role from 1982 to 1989 and presided over significant cases such as public school desegregation cases in Polk and Duval Counties. He was appointed by Chief Justice Rehnquist to serve as Chair of the Advisory Committee on Criminal Rules and the Executive Committee of the Judicial Conference. He took senior status from the court in 1999.
Judge Hodges was a founder and former president of the Tampa Chapter of the American Inns of Court and president of the Jacksonville Chapter of the American Inns of Court. He received numerous awards during his long career, including the Edward J. Devitt Distinguished Service to Justice Award presented by Supreme Court Justice Stephen Breyer and the American Inns of Court's 2007 Professionalism Award for the Eleventh Circuit. He mentored more than 40 law clerks during his career and bestowed upon them a pocket copy of the Constitution at the end of their time in his chambers. He was known for saying to his law clerks "when in doubt, always look at the rules."
Margaret D. Mathews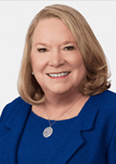 Class of 1982. November 21, 1956 – April 22, 2021
Margaret D. Mathews received her B.A. degree from Vanderbilt University before earning a J.D. from the University of Florida in 1982, where she was Executive Editor of Florida Law Review. She was Board Certified in Admiralty and Maritime Law and spent her career practicing with Holland & Knight, then Stagg, Hardy & Mathews, and later retired from Akerman in 2019.
Mathews provided leadership to the legal community and mentored countless attorneys as President of the Hillsborough County Bar Association, Chair of the Board of Directors of the Hillsborough County Bar Foundation, and President of the Hillsborough Association of Women Lawyers. She served for eight years on the Florida Bar Board of Governors and more than two decades as a trustee of the UF Law Center Association.
In 1998, Mathews received The Florida Bar President's Pro Bono Award. The Hillsborough County Bar Association recognized her as the 2016 Outstanding Lawyer of the Year and the HCBA Trial and Litigation Section recognized her with the Michael A. Fogarty in the Trenches Award the following year. She received the Trailblazer Award from the Hillsborough Association for Women Lawyers in 2018. She served as Chair of the Board of Directors of Bay Area Legal Services and Secretary of the Terrell American Inn of Court.
Professor Emeritus Michael J. Moorhead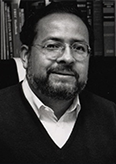 January 20, 1944 – August 19, 2003
Professor Emeritus Michael J. Moorhead earned his B.A. at George Washington University and his J.D. at Howard University School of Law in 1969. After law school, he remained at Howard University as a professor before taking leave to visit University of Richmond, the first time the institution had a Black faculty member. Moorhead then joined UF Law to teach property law, administrative law, government regulation and labor law and was the law school's first tenured African-American professor from 1978 to 1994.
In addition to serving on committees and boards at several universities, Moorhead was elected President of the Council on Legal Education Opportunity (CLEO), a national organization advocating for increased minority admissions to U.S. law schools. He also served as Chairman of the Graduate and Professional Financial Aid Council for the Education Testing Service and a member of the Law School Admission Council Board of Trustees.
During his service in Washington, Moorhead served as Chairman of the Board of Directors of the Neighborhood Legal Services Program and Chairman of the D.C. Rental Accommodations Commission. He was also selected Chairman of the Florida Advisory Committee to the U.S. Civil Rights Committee and served as consultant to the Legal Services Corporation in Washington and to the Civil Rights Reorganization Projects of the Executive Office to the President of the United States.