To permanently honor outstanding and notable alumni of the University of Florida Levin College of Law and their contributions to the state and University, the Law Center Association Board of Trustees established the Heritage of Leadership Recognition Society. The Selection Committee determined the initial classes of inductees, barring exceptional circumstances, would be honored posthumously.
Class of 2013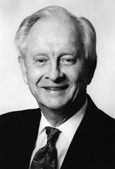 Mark Hulsey, Jr. (1922-2011)
Class of 1948.  World War II naval officer on ship that landed at Omaha Beach on D-Day; served with U.S. Navy during the Korean War (1951). President, Jacksonville Bar Association (1962). President, The Florida Bar (1969-1970). Member, Judicial Qualifications Commission (1972-1984) and Chairman 1981-1984. President, UF Foundation (1992-1994). UF Distinguished Alumnus (1992).
Benjamin Frederick Overton (1926-2012)
Class of 1952. Class of 1952. Justice, Florida Supreme Court, (1974-99); Chief Justice, (1976-78); first justice to be appointed under merit selection process. Faculty and board member of the National Judicial College (1976-1987). Chairman of United States Constitution Bicentennial Commission of Florida (1986-1992). Adjunct Professor at UF, Stetson, Florida State law schools.
Heritage of Leadership Selection Committee
Scott G. Hawkins, JD 83, chair, West Palm Beach
Barry Davidson, JD 67, vice-chair, Miami
Eugene K. Pettis, JD 85, Fort Lauderdale
Michael D. Minton, JD 81, LLMT 82, Fort Pierce
Brian M. O'Connell, JD 79, LLMT 80, West Palm Beach
Gary Printy, JD 82, Tallahassee
W. Crit Smith, JD 78, Tallahassee