Sanchez turns reigns to Hawkins to chair LCA Board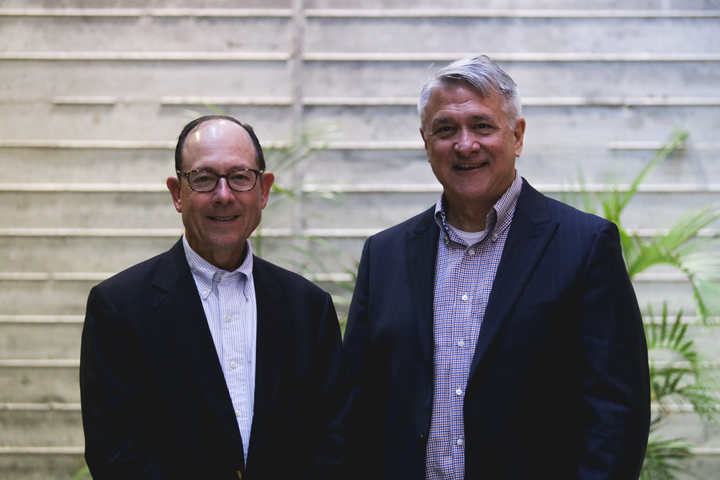 University of Florida Levin College of Law is pleased to welcome Scott Hawkins (JD 83) as the newly installed chairman of the 2017-2018 Law Center Association Board of Trustees, which has been led by Oscar Sanchez (JD 82) since 2015.
Sanchez, a Triple Gator, is the founding member of OAS Mediation in Miami. He is certified by the Florida Supreme Court in Civil Circuit and Appellate Mediations and previously served as president of the UF Law Alumni Council before joining the LCA.
"It has been a pleasure and a privilege to have served as chair of the Board of Trustees of the University of Florida Law Center Association," Sanchez said. "It has also been two years of changes, challenges, and opportunities for the law school. Most profoundly, during my two years as chair of this board, we welcomed a new dean. With Dean Rosenbury's continued leadership, and with Scott Hawkins coming in as UF Law's new chair of the LCA, our law school's future has never been brighter."
Hawkins, a Double Gator, is Vice-Chair and shareholder in the West Palm Beach office of Jones Foster Johnston & Stubbs, P.A. He is a past-president of The Florida Bar (2011-2012) and is board certified in business litigation, practicing both commercial and corporate litigation.
"Building on the outstanding work of prior chairs Michael Minton (JD 81) and Ladd Fassett (JD 97), Oscar has emphasized board diversity, strengthening alumni financial support, enhancing student recruitment efforts with alumni, and helping Dean Rosenbury in her efforts to enhance the college's ranking," Hawkins said.
"Looking forward, I am interested in working closely with Dean Rosenbury in advancing the college's ranking and reputation," Hawkins said. "In particular, I am interested in strategies to grow financial support among alumni, which is clearly a metric that distinguishes America's most highly ranked law schools. I am committed to building financial support among our college's alumni base through efforts such as the highly successful Culverhouse Challenge and building endowed funds that support scholarships and faculty research."