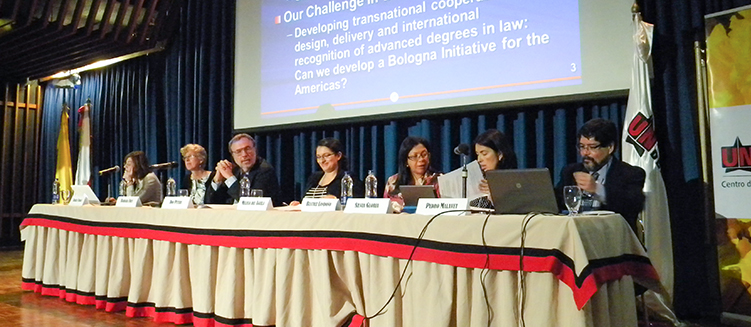 Annual Conference on Legal & Policy Issues in the Americas
The Center for Governmental Responsibility directs the Annual Conference on Legal & Policy Issues in the Americas, in cooperation with the Law and Policy in the Americas Program. The overall focus of the conference is related to the rule of law and justice reform throughout the Americas. Agendas have included presentations on international trade, legal education, financial crimes, justice reform, human rights, alternative dispute resolution, economic integration, legal education and professionalism, privacy, press freedom, environment, property rights, and international tax issues.
The Conference alternates between Gainesville, Florida, and locations throughout the Americas. To date, the conference has been held in San Jose, Costa Rica; Lima, Peru; Rio de Janeiro and Curitiba, Brazil; Montevideo, Uruguay; and Buenos Aires, Argentina. The 2015 conference will be held in Gainesville and will focus on Cuba.
Participants in the conference include lawyers, policy makers, law professors, judges, law students, journalists, and business professionals. They represent countries from throughout the Americas.
The conference is designed to provide a venue for scholars, business and government leaders in the Americas to analyze legal and policy issues of importance to the countries of this hemisphere, with the goal of fostering programs and faculty interests of the University of Florida.
16th Annual Conference on Legal & Policy Issues in the Americas
May 11, 2015: University of Florida Levin College of Law, Gainesville, Florida
The 2015 conference, like its predecessors, will examine current legal issues in the hemisphere, while continuing to strengthen our partnerships throughout the region. A special emphasis of the 2015 conference is a focus on Cuba. All conference sessions will be held at the UF law campus in the Martin H. Levin Advocacy Center.
CLE Credit
The Florida Bar has approved the 16th Annual Conference on Legal & Policy Issues in the Americas for CLE credit of 9.0 General Credits; and in Certification Credits: 9.0 credits in International Law and 4.5 credits in State and Federal Government and Administrative Practice. At the conference registration on May 11, you will receive information regarding the course number. Fee for CLE credit for non-University of Florida Levin College of Law faculty and staff: $150. The fee is included in the conference registration fee.
Agenda
Conference Hotel
We have a contract with the SpringHill Suites by Marriott, 4155 SW 40th Boulevard, Gainesville. Telephone: 352-376-8873. The hotel provides a free shuttle from the Gainesville airport and to the Levin College of Law.
Information
Please contact Lenny Kennedy lkennedy@law.ufl.edu at the Center for Governmental Responsibility for further information.
Past Conferences