Center on Children & Families
Center on Children & Families
Recent Publications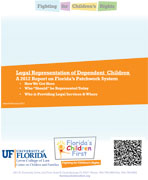 Legal Representation of Dependent Children


Juvenile Justice Handbook

The Shackling of Juvenile Offenders: The Debate in Juvenile Justice Policy
Visit the Juvenile Justice Project Web site
Spotlight
Congratulations to the 2015 Family Law Certificate Graduates
The Center on Children & Families would like to introduce its new Director, Shani King.
Nancy Dowd will become the Emeritus Director and will continue to play an active role in the center.
Events
October 13, 2016: 11th Annual Weyrauch Lecture: Dr. Victor Rios — Holland Hall 180 @ noon to 1 p.m. – Dr. Victor Rios is an award winning college professor, author, and speaker. He studies adversity, resilience, and grit among marginalized youths. Dr. Rios provides captivating, evidence-based professional development to educators about the power of positive quality of interactions in the lives of young people. This year's lecture will focus on Policing, Race, Criminalization and Protests in Oakland and Ferguson
November 9, 2016: The Collaborative Law Revolution – Join us for a discussion with Robert J. Merlin, Florida Bar Board Certified Family Law Specialist. Robert J. Merlin is one of the most experienced Collaborative Law attorneys in Florida, and he uses the Collaborative Process to help clients with a wide range of family issues, including the negotiation of Prenuptial Agreements.
November 16, 2016: The Hague Convention on Civil Aspects of International Child Abduction with Brett Barfield – Brett Alan Barfield practices in the area of business litigation with an emphasis on domestic and international commercial disputes, construction litigation, commercial landlord/tenant disputes and litigation under the Hague Convention on international parental child abduction.
March 26, 2017: Mail Order Marriage – Join us for a discussion about the intersection of family law and immigration law, presented by Marcia A. Yablon-Zug, Associate Professor of Law at University of South Carolina School of Law.
March 27, 2017: Margaret Beale Spencer – Margaret Beale Spencer is the Marshall Field IV Professor of Urban Education, and is an alumna of the Committee on Human Development. In addition to Spencer's ongoing program of research, she frequently collaborates with groups for the purpose of applying the research findings to settings having a stated mission or purpose which addresses youths' emerging capacity for healthy outcomes and constructive coping methods.
Projects and Deadlines
Center on Children and Families Projects
Restoration of Civil Rights Events: Law Students will provide assistance to persons who are interested in having their civil rights restored.
October 6, 2016 @ 5:30-7 p.m.– Library Partnership
November 10, 2016 @ 5:30-7 p.m.– Alachua County Library HQ
December 6, 2016 @ 4:30-6 p.m. – Cone Park Branch Library
Important Deadlines/Dates for Family Law Certificate Program
Family Law Certificate Program
Attention May 2017 Graduates: The Center for Children & Families is still accepting applications for the Family Law Certificate! For more information, email Director Shani King at kings@law.ufl.edu or Program Coordinator at CCF@Law.ufl.edu.
More information and applications can be found here.
News
CCF File Briefs with United States Supreme Court
Adoptive Couple v. Baby Girl
The Center on Children and Families has filed an Amicus Brief with the United States Supreme Court. The case of Adoptive Couple v. Baby Girl, a minor under the age of fourteen years, Birth Father, and the Cherokee Nation, No. 12-399, is set to decide two issues: whether a non-custodial parent can invoke ICWA to block an adoption voluntarily and lawfully initiated by a non-Indian parent under state law; and whether ICWA defines "parent" in 25 U.S.C. § 1903(9) to include an unwed biological father who has not complied with state law rules to attain legal status as a parent.
Click here to download the brief.
Emory Child Rights Project
"LGBTQ YOUTH AND YOUNG ADULT SURVEY: A Joint Project on Marriage Equality of the University of Florida Center on Children and Families and the Emory Child Rights Project" by Kathryn Brightbill, Brian W. Kaufman, Margaret Riley, and Nick Vargo
view
Hollingsworth v. Perry and United States v. Windsor
Mission
The mission of the Center on Children and Families is to promote the highest quality of advocacy, teaching and scholarship in the areas of child & family law and policy. Read More »