Center on Children & Families
Center on Children & Families
Recent Publications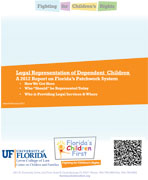 Legal Representation of Dependent Children


Juvenile Justice Handbook

The Shackling of Juvenile Offenders: The Debate in Juvenile Justice Policy
Visit the Juvenile Justice Project Web site
Nancy Dowd will become the Emeritus Director and will continue to play an active role in the center.
Events
February 17, 2016 – Panel on the Solitary Confinement of Juveniles. Panelists include:
Marsha Levick, Esq., Deputy Director and Chief Counsel, co-founded Juvenile Law Center;
Dana Shoenberg, Esq., Deputy Director of the Center for Children's Law and Policy at Washington College of Law;
R. Dwayne Betts, Author "A Question of Freedom: A Memoir of Learning, Survival, and Coming of Age in Prison".
Amy Fettig, Esq., Senior Staff Counsel for the ACLU's National Prison Project (NPP)
Paolo Anino, Esq., Clinical Professor and supervising attorney in the Public Interest Law Center at Florida State University
Jessica Feireman, Esq., Supervising Attorney, Juvenile Law Center
Grace Bauer, Co-Director of Justice for Families: Families Unlocking Futures.
March 11, 2016 – Youth Summit: CCF annually leads the Youth Summit, an opportunity to engage with local youth on a topic of interest to them. This project has worked with both middle school and high school students.
March 16, 2016 – Annual Weyrauch Lecture: Dorothy E. Roberts. Dorothy Roberts is an acclaimed scholar of race, gender and the law who joined the University of Pennsylvania as its 14th Penn Integrates Knowledge Professor with a joint appointment in the Department of Sociology and the Law School where she also holds the inaugural Raymond Pace and Sadie Tanner Mosell Alexander chair.
Dorothy Roberts faculty profile.
Projects and Deadlines
Center on Children and Families Projects
Restoration of Civil Rights (RCR):

February 11 @ 5:30-7pm -RCR Workshop (Tower Road Library)
March 17 5:30-7pm – RCR Workshop (Alachua County Library HQ)
April 7 @ 5:30-7pm –RCR Workshop (Library Partnership)

Lawyers for Kids: Updating Representation Report
Juvenile Justice Project: Mobile Juvenile justice app
Ending the Solitary Confinement of Juveniles: Draft legislation, white papers, op-eds.
Important Deadlines/Dates for Family Law Certificate Program
3/16/2016 11am-12pm & 1:00pm – 2:00pm Family Law Certificate Info Session – TBD
3/25/2016 – Priority Registration Deadline
News
CCF File Briefs with United States Supreme Court
Adoptive Couple v. Baby Girl
The Center on Children and Families has filed an Amicus Brief with the United States Supreme Court. The case of Adoptive Couple v. Baby Girl, a minor under the age of fourteen years, Birth Father, and the Cherokee Nation, No. 12-399, is set to decide two issues: whether a non-custodial parent can invoke ICWA to block an adoption voluntarily and lawfully initiated by a non-Indian parent under state law; and whether ICWA defines "parent" in 25 U.S.C. § 1903(9) to include an unwed biological father who has not complied with state law rules to attain legal status as a parent.
Click here to download the brief.
Emory Child Rights Project
"LGBTQ YOUTH AND YOUNG ADULT SURVEY: A Joint Project on Marriage Equality of the University of Florida Center on Children and Families and the Emory Child Rights Project" by Kathryn Brightbill, Brian W. Kaufman, Margaret Riley, and Nick Vargo
view
Hollingsworth v. Perry and United States v. Windsor
Mission
The mission of the Center on Children and Families is to promote the highest quality of advocacy, teaching and scholarship in the areas of child & family law and policy. Read More »