Center on Children & Families
Center on Children & Families
Recent Publications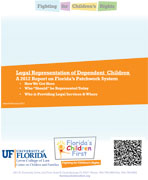 Legal Representation of Dependent Children


Juvenile Justice Handbook

The Shackling of Juvenile Offenders: The Debate in Juvenile Justice Policy
Visit the Juvenile Justice Project Web site
Spotlight
Congratulations to the 2016 Family Law Program Graduates
The Center on Children & Families would like to introduce its new Director, Shani King.
Nancy Dowd will become the Emeritus Director and will continue to play an active role in the center.
Events
October 13, 2016: 11th Annual Weyrauch Lecture: Dr. Victor Rios — Holland Hall 180 @ noon to 1 p.m. Dr. Victor Rios is an award winning Professor of Sociology at the University of California, Santa Barbara. Professor Rios' book, Punished: Policing the Lives of Black and Latino Boys (NYU Press 2011), analyzes how juvenile crime policies and criminalization affect the everyday lives of urban male youth. Punished has received five prestigious book recognitions including the Oliver Cromwell-Cox book award from the American Sociological Association and C. Wright Mills Book Award Finalist from the Society for the Study of Social Problems. Professor Rios will discuss his findings from 10 years of ethnography in Northern and Southern California with "juvenile delinquent" and gang associated boys. Rios' work analyzes the role of social control in determining the well-being of young people living in urban marginality, tracks the social consequences of the punitive state and punitive social control across institutional settings, and examines young people's resilience and responses to social marginalization.
November 9, 2016: Bob Merlin: The Collaborative Law Revolution Bob Merlin is one of the most experienced Collaborative Law attorneys in Florida and is one of the leaders in the Collaborative Law movement nationwide. Join us for a discussion of this non-litigated, facilitated and dignified team-based approach to divorce and dispute resolution.
November 16, 2016: The Hague Convention on Civil Aspects of International Child Abduction with Brett Barfield: Brett Alan Barfield is a Partner in the Miami office of Holland & Knight and practices in the area of business litigation with an emphasis on domestic and international commercial disputes. In addition, Mr. Barfield has represented more than 40 clients seeking the return of their children under the Hague Convention on International Parental Child Abduction. From time to time, he also represents parents defending against petitions under the same Convention, and in April 2015 succeeded at a federal trial to prevent the return of a child to Venezuela, where the court found the situation to be so dangerous for the child that a very narrow exception to return under the Convention applied in the case. In an important February 2016 decision, the federal appellate court affirmed the victory. Please join us for a discussion of Brett's amazing Hague work.
March 26, 2017: Marcia Yablon-Zug: Mail Order Marriage Professor Marcia Yablon-Zug teaches Family Law, Advanced Family Law, and American Indian law at the University of South Carolina School of Law. She has published numerous articles on family law, immigration law and policy, and American Indian Law in publications including the Yale Law Journal, UC Davis Law Review, The BYU Law Review, The William Mitchell Law Review, Queen's University Law Review, the Virginia Law and Policy Review, and the Emory Bankruptcy Developments Journal. Professor Yablon Zug's research focuses on the intersection of family law and immigration law and she is currently writing a book entitled Buying a Bride: From Mail Order Brides to Cyber-matches. Please join us for a discussion of Professor Yablon-Zug's new book.
March 27, 2017: Margaret Beale Spencer: Margaret Beale Spencer is the Marshall Field IV Professor of Urban Education at the University of Chicago, and is an alumna of the Committee on Human Development. Before returning to Chicago, she was Director of the University of Pennsylvania's Center for Health Achievement Neighborhood Growth and Ethnic Studies (CHANGES), and also guided as its director the W. E. B. Du Bois Collective Research Institute. Spencer's Phenomenological Variant of Ecological Systems Theory (PVEST) serves as the foundation for her gendered and race-ethnicity focused research emphasis, which addresses resiliency, identity, and competence formation processes for diverse youth both in the United States and abroad. Please join us for a discussion of Professor Spencer's work.
Projects and Deadlines
Center on Children and Families Projects
Restoration of Civil Rights Events: Law Students will provide assistance to persons who are interested in having their civil rights restored.
October 6, 2016 @ 5:30-7 p.m.– Library Partnership
November 10, 2016 @ 5:30-7 p.m.– Alachua County Library HQ
December 6, 2016 @ 4:30-6 p.m. – Cone Park Branch Library
Important Deadlines/Dates for Family Law Program
Family Law Program
Attention May 2017 Graduates: The Center for Children & Families is still accepting applications for the Family Law Program! For more information, email Director Shani King at kings@law.ufl.edu or Program Coordinator at CCF@Law.ufl.edu.
More information and applications can be found here.
News
CCF File Briefs with United States Supreme Court
Adoptive Couple v. Baby Girl
The Center on Children and Families has filed an Amicus Brief with the United States Supreme Court. The case of Adoptive Couple v. Baby Girl, a minor under the age of fourteen years, Birth Father, and the Cherokee Nation, No. 12-399, is set to decide two issues: whether a non-custodial parent can invoke ICWA to block an adoption voluntarily and lawfully initiated by a non-Indian parent under state law; and whether ICWA defines "parent" in 25 U.S.C. § 1903(9) to include an unwed biological father who has not complied with state law rules to attain legal status as a parent.
Click here to download the brief.
Emory Child Rights Project
"LGBTQ YOUTH AND YOUNG ADULT SURVEY: A Joint Project on Marriage Equality of the University of Florida Center on Children and Families and the Emory Child Rights Project" by Kathryn Brightbill, Brian W. Kaufman, Margaret Riley, and Nick Vargo
view
Hollingsworth v. Perry and United States v. Windsor
Mission
The mission of the Center on Children and Families is to promote the highest quality of advocacy, teaching and scholarship in the areas of child & family law and policy. Read More »