CSRRR News and Events
The Center for the Study of Race and Race Relations (CSRRR) at the University of Florida Levin College of Law hosted a discussion and conversation with Professor Michelle Jacobs on Saturday, October 10, 2020 via Zoom. You may watch the recorded conversation by clicking the image below.
UF Law Professor Katheryn Russell-Brown will participate in Mayor Poe's Book Club panel discussion on Sunday, October 18, 2020. Join the discussion on Zoom via tinyurl.com/mayorbookclub.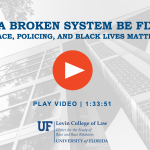 The Center for the Study of Race and Race Relations, at the University of Florida Levin College of Law hosted the webinar, Law Firms in a Post-George Floyd World: Same Challenge, Different Day on Tuesday, July 28, 2020 at 12:00pm. The panel discussion was moderated by UF Law Professor Elizabeth Rowe. She was joined by […]
Keep reading