Watershed Law, Policy and Planning
Watershed Law, Policy and Planning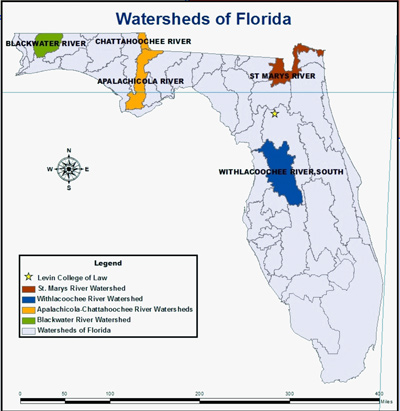 The Conservation Clinic provides policy & planning assistance to watershed stakeholder groups to help develop strategies for improving watershed health. Associated PhD students investigate the biophysical characteristics of the watershed, including water quality, water quantity, local geology and geography, and biological ecosystems to assess the health of the system.
Law students review governance structures and the legal framework related to the management of the watershed. Working with client stakeholder organizations the student-faculty team identifies issues of concern, gaps and deficiencies in policy-relevant data and in the regulatory and policy framework that has led or may lead to watershed degradation.
Where appropriate, planning and policy initiatives that can be adopted and implemented by the local stakeholder groups are then proposed. The Clinic can continue to work with watershed organizations to achieve management and policy outcomes.
The Clinic's Watershed Stakeholder Engagement Projects
In some cases, the Clinic's work in specific watersheds has illuminated policy deficiencies that have applicability beyond that watershed.  The Clinic has responded to some of these by publishing peer-review articles, reports and white papers that address these deficiencies.
The Clinic Water Policy Products