Externship Program Guides
Externship Program Guides
The Academic Externship Program publishes four Program Guides per academic year, including a guide for fall and spring semesters and two guides for summer semester. Externships are offered in all areas of law including; Children & Families, Civil Rights, Corporate, Criminal, Domestic Violence, Environmental & Land Use, Higher Education, Health Care, Housing, Human Rights, Intellectual Property and Local Government.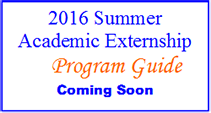 Externship Program Guides are provided to students as a tool to learn about the Externship Program, information regarding on-going externship opportunities, potential externships, and how to create externships. The guides also provide students with individual position descriptions, application instructions and deadlines for each externship.
Summer Externship Program Guides
Summer externship program information coming soon. For more information, please contact Silvia Menendez at menendezs@law.ufl.edu.
Fall & Spring Externship Program Guides
The Spring Academic Externship Program Guide is published in mid-spring semester with application deadlines in early summer. The Spring Academic Externship Program Guide is published in early fall with application deadlines approximately two weeks prior to fall semester finals. In most cases, fall and spring semester externship applications are accepted via the University of Florida online Gator Jobs application system. Please see the Applying for Externships web page for Gator Jobs application instructions.