UF Law E-Discovery Project
UF Law E-Discovery Project
The UF Law E-Discovery Project is a multidisciplinary endeavor to support the civil litigation process through electronic discovery law courses, research, the development of information retrieval method and tools, and offering electronic discovery skills training for practicing attorneys and litigation support professionals through public conferences and continuing legal educational offerings.
The UF Law E-Discovery Project is supported by generous contributions from ICAIR, The International Center for Automated Research at the University of Florida Levin College of Law.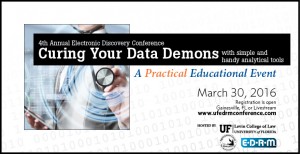 4th Annual E-Discovery Conference
This year's conference focuses on "Curing Your Data Demons with Simple and Handy Analytical Tools" featuring our faculty of national experts and, as always, live software demonstrations that will elevate legal practice. Craig Ball kicks off the conference speaking on the nine basic e-discovery skills every attorney must have. This year we've added a judicial panel of U.S. magistrate judges and state court judges from around the state. Judge Ralph Artigliere will be
presenting the luncheon address on the intersection of e-discovery and professional ethics.
For complete details and registration information, visit the E-Discovery Conference website.
Bill Hamilton interview of Michael Dalewitz and Danielle Kaboudi
See the interview here.
Bill Hamilton Interview on Legal Talk Network
Bill Hamilton was interviewed on Legal Talk Network about the pedagogical strategies we are deploying in the electronic discovery course and the use of the Catalyst Secure e-discovery software and related exercises, videos, and assessments.
Listen to the interview here.
Distinguished Speaker Series presents "Law Enforcement Access to Your Data: Cellphone, Computers, the Internet and the Fourth Amendment" featuring Honorable James C. Francis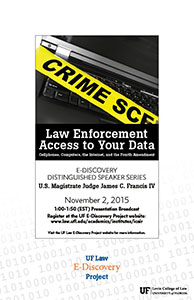 We are very pleased to announce that United States Magistrate Judge James C. Francis IV will be our E-Discovery Distinguished Speaker on November 2, 2015. Magistrate Judge Francis' presentation will be held at the Chesterfield Smith Honorary Classroom on the law school campus and will be streamed live commencing at 1:00 PM EST.
This is a free event to attend in person or online.
Watch the Recording of the Free Webinar on The New Federal E-Discovery Rules Amendments: Counsel's New Duties and Ethical Responsibilities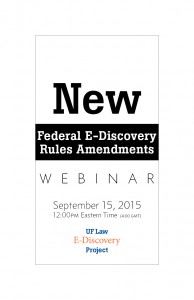 This one-hour webinar took place on September 15th. Presenters and panel guests discussed new practice imperatives, duties and obligations under the 2015 amendments to the Federal Rules of Civil Procedure including discovery proportionality requirements and the degree of culpability required to impose sanctions. The webinar panel featured Gary Jones, U.S. Magistrate Judge, the Honorable Ralph Artigliere, and William Hamilton, University of Florida E-Discovery Project.The webinar is approved for Florida CLE creditand South Carolina CLE Credit.
3rd Annual Electronic Discovery Conference–Watch The Recording!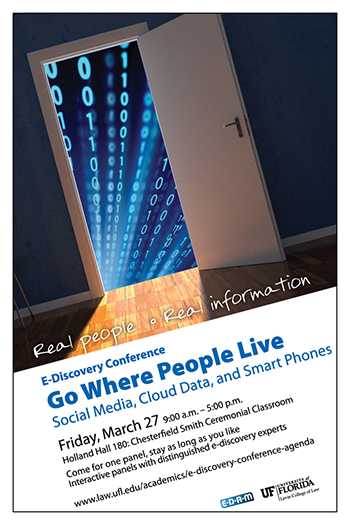 The 3rd Annual Electronic Discovery Conference was a huge success with nearly 500 engaged on campus and online registrants and 20 national experts!
The Conference focused its attention this year on litigation involving social media, the cloud, and mobile devices. Data from a multitude of social platforms and mobile devices capture our movements, our moods, and the everyday moments of our lives. That data is stored everywhere – on our devices, at remote locations, and in the cloud. This critical information can make or break any litigation and investigation.
Do you know what data your automobile, Fitbit, iPhone and a plethora of embedded electronic devices capture and record? Do you know how to efficiently and defensibly identify and collect this important digital data, or how to integrate it with traditional electronically stored information? Do you know how to use all of it to make your case and to tell your winning story? The Conference panels will show you how.
Click here for more Conference information and to register to view the Conference recordings and materials.
The Decade of Discovery
On January 20, 2015, the UF College of Law hosted a screening of The Decade of Discovery; a documentary of events that took place at The White House and in U.S. Courts (circa. 2002-2012). After the screening, the film's producer and director  Joe Looby, United States Magistrate Judge John Facciola, former Director of Litigation for the National Archives and now Drinker Biddle partner Jason R. Baron, and University of Maryland computer scientist Doug Oard  discussed the documentary and fielded questions from the audience.
Afterwards, a distinguished panel discussion took place. View the webcast of the discussion.
The movie is available on Vimeo from 10th Mountain Films for $9.99, if you would like to enjoy it in conjunction with the panel discussion.
E-Discovery Speaker Series
The ICAIR E-Discovery Project Speakers Series brings distinguished e-discovery professionals to the University of Florida campus speak on the latest trends in e-discovery and to meet with UF law students to discuss e-discovery career paths.
"Information Retrieval for E-Discovery"
by Douglas W. Oard
The slide deck from a presentation to the University of Florida Computer Science Department on January 20, 2015.
"Technology and E-Discovery Competence: Enhancing Your Career Options" by The Honorable John M. Facciola
"Enhancing Your Career Options: What Does it Mean to be Technologically Competent in E-Discovery?" by Jason Baron
"Spoiled & Deluded: The Shakespearean Tragedy That IS E-Discovery" by Craig Ball
Recent E-Discovery Project Publications


"Streamlining and Modernizing Florida's Pre-litigation Preservation Standard: Modern Technology Demands a Modern Solution"
Florida Bar Journal, May 2014
Read the rest of the article here.
"SMART Electronic Legal Discovery Via Topic Modeling" White Paper
AAAI Publications, Presented at The Twenty-Seventh International Flairs Conference
Read the rest of the white paper here.
Random Sampler Application


The University of Florida Levin College of Law E-Discovery Project and the Department of Computer and Information Science and Engineering (CISE) are pleased to announce the availability of the Random Sampler application for e-discovery. This application has been collaboratively developed and is freely available under an open source license.
Click here for more information and to download the Random Sampler Application.
eNarrative Center


The eNarrative Center's mission is to become the leading center for the development and promulgation of best eNarrative analytical and review practices that discover, Identify, and relate Case Narratives found within electronically stored information.
Read more about the eNarrative Center
Advanced E-Discovery Law School Course
UF Law is adding a specialized course on the types of search and review gaining prominence in electronic discovery. It is part of the "skills" component of UF Law's offering and will feature hands-on practice and exercises with actual data and the most current software. This unique course is taught by William Hamilton, a nationally recognized leader in electronic discovery education and business litigation, and by John Tredennick, the Founder and CEO of Catalyst.
---
Subscribe for more information about the UF Law E-Discovery Project