Micro-brewery delivers lessons in entrepreneurship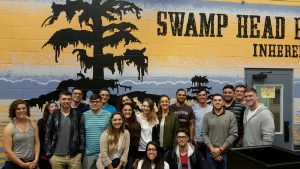 UF Law students in Law and Entrepreneurship, an upper-level elective taught by Professor Daniel Sokol, have been examining the structuring of venture capital and legal and regulatory issues for high-tech growth companies. Last week, the class took a field trip to the Gainesville-based Swamp Head Brewery to better understand the business strategies of a growth sector in the United States – micro-breweries.
In addition to touring the facility, the students met with management to discuss customer-acquisition strategies, the regulatory structure of three-tiered distribution, supply-chain management, the use of intellectual property to protect the assets of the businesses, and capital structure.