Students opt for pro bono and field courses on spring break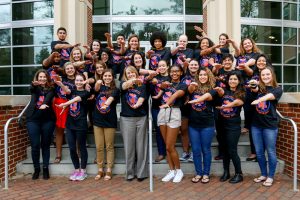 Nearly 30 UF Law students gained hands on legal training and performed pro bono work this week during the second annual Alternative Spring Break Program.
Students also enjoyed networking events with area alumni and potential employers. The program expanded to four locations this year:
In Jacksonville, students worked with Jacksonville Area Legal Aid on name and gender marker change, followed by a networking event sponsored by Holland & Knight.
In Miami and West Palm Beach, the focus was on health-care related work as students worked with Florida Legal Services.
In Orlando, students engaged in veterans' advocacy with Community Legal Services of Mid-Florida, and enjoyed a reception sponsored by Broad & Cassel.
In Dilley, Texas, students focused on legal services for unaccompanied children and families crossing the southern border of the United States, and worked with a coalition of immigration groups known as the CARA Family Detention Project.
UF Law also offered four spring break field courses allowing students to earn college credit while completing coursework over the break:
Marine and Coastal Law, South Florida/Bahamas Ecoregion, taught by Professor Thomas T. Ankersen (JD 86)
Doing Business with Latin America, Miami, taught by Professor D. Daniel Sokol
Entrepreneurship Principles for Startup Businesses, Gainesville, taught by Adjunct Professor Jason W. Fenwick (JD 97)
Intensive Trial Clinic, South Florida, taught by Professor Jennifer Zedalis (JD 84)