Events
For a full listing of activities, or for steps to plan your next event at UF Law, visit our CALENDAR.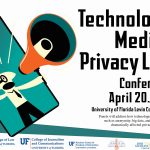 Time: 8 am – 5:15 pm
Location: UF Law Campus, Holland Hall Room 180
Description: The Technology, Media & Privacy Law Conference panels will address how technological developments such as anonymity, big data, and encryption, have dramatically affected privacy and media law. This conference is co-sponsored by the University of Florida's Levin College of Law, College of Journalism and Communications, Center for Governmental Responsibility, Brechner Center for Freedom of Information, and Bob Graham Center for Public Service & the University Press of Florida.
Time: 4 pm
Location: Ben Hill Griffin Stadium
Description: A reception to recognize students, alumni, and Heritage of Leadership inductees
Time: 9:30 am
Location: Exactech Arena at the Stephen C. O'Connell Center
For more information, visit our commencement page here