Dean's Note | January 2023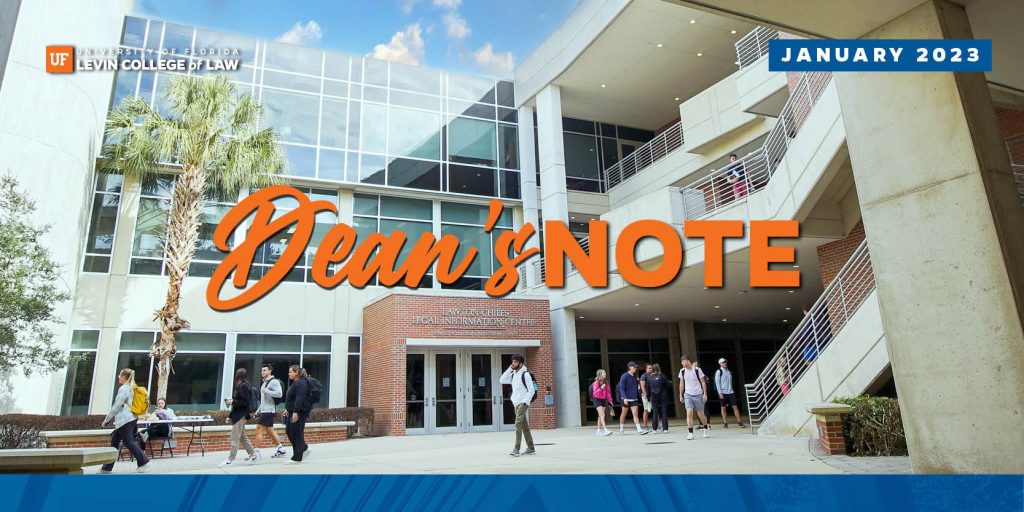 Dear Alumni and Friends,
The spring semester is underway at Florida Law.
Last week, nearly 180 students took one-week compressed courses led by our amazing alumni. One of the courses was based in Miami, where 41 experienced lawyers and judges offered students an intensive Basic Litigation Bootcamp. The courses here in Gainesville focused on debt finance, deposition strategy, financial regulation, international in-house legal leadership, law firm management, lawyer regulation and discipline, the PGA Tour, securities law enforcement, and the role of the state attorneys general. We thank the many alumni who shared their time and wisdom with our students during this intense and engaging week.
I am also excited to announce a new faculty member. Matthew Kim will join Florida Law as an Assistant Professor starting in August, 2023. Professor Kim is an empirical scholar who focuses on criminal law and criminal procedure. He is currently clerking in Miami for Judge Barbara Lagoa of the U.S. Court of Appeals for the Eleventh Circuit, and he previously clerked for Judge Beth Bloom of the U.S. District Court for the Southern District of Florida.
Finally, I share links to some emails that we have sent to law faculty across the nation over the past several months. We seek to promote our diverse scholarship and teaching by highlighting the following strengths:
Thank you for all you do to support UF Law and our students. I hope our paths will cross this year!
Laura
Laura Ann Rosenbury
Dean and Levin, Mabie & Levin Professor of Law