Computer Scientist explains Information Retrieval Basics in Electronic Discovery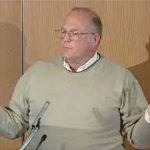 Professor Douglas W. Oard, an e-discovery expert, discussed the future of information retrieval in electronic discovery.
Oard, of the University of Maryland College of Information Studies and the Institute for Advanced Computer Studies, visited the UF Law e-discovery class Sept. 12 in Holland 270. The talk was open to all UF students, faculty and staff.
Oard has played an important role in bringing advanced information retrieval practices into electronic discovery. His contribution is memorialized in the hit documentary "The Decade of Discovery."