UF Law E-Learning: Zoom Guides
UF Law E-Learning: Zoom Guides
ZOOM MEETINGS AND VIRTUAL EVENTS
Helpful Resources
Scheduling and Starting a Zoom Meeting:
Recording a Zoom Meeting:
Online Office Hours:
Sharing Your Screen:
FOR STUDENTS
The instructions and resources below are for UF Law students. If you have a question about using Zoom, you may submit a request here. Be sure to check your email often and your junk folder for any rerouted emails.
Set Up Your Zoom Account
Click Sign in to configure your account.
The UF login screen will appear. Enter your UF Gatorlink login name and password.
Your account is now ready to go. Confirm that you see your name and email address on the Zoom profile page.
Zoom Quick-Start Guide
Preparation:
Make sure you have a good WiFi connection or cell signal
Download the Zoom software at zoom.us/download
Go to zoom.us/test and check your internet connection, audio, and video
Look for the Zoom link in the left navigation of your course
Etiquette:
Turn on your video or webcam
Make sure you are well-lit so that others can see you
Please wear appropriate clothing, as you will be visible
Make eye contact with the camera when contributing
Remember to mute yourself when you're not contributing
Speak in a conversational tone
Screen Sharing
If you are asked to share your screen, click on the Share option in the controls and select the application you'd like to share. Remember to close out unnecessary applications and browser windows before joining the class meeting!
PDF and Video Guides:
Please visit https://elearning.ufl.edu/zoom/ for additional resources.
The latest information will be posted here https://elearning.ufl.edu/keep-learning/.
Zoom Backgrounds: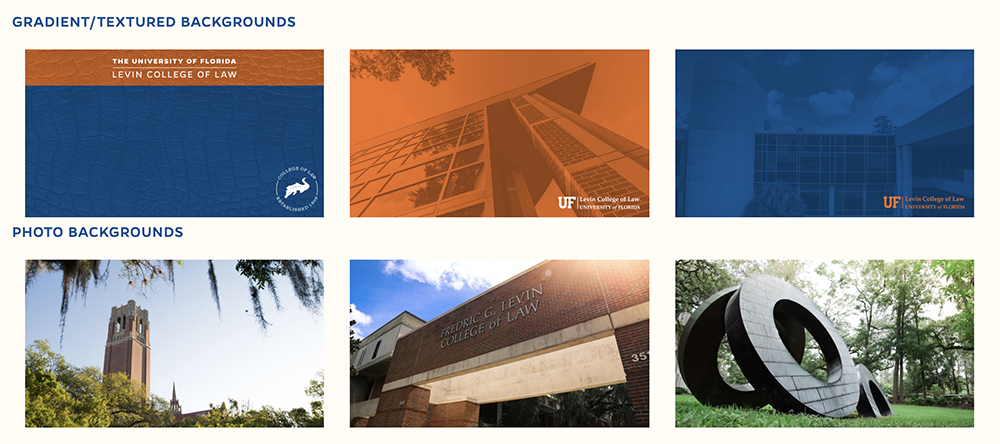 Click
here
to see UF Law's custom Zoom backgrounds.