Abolition Across Criminal Justice, Immigration, and National Security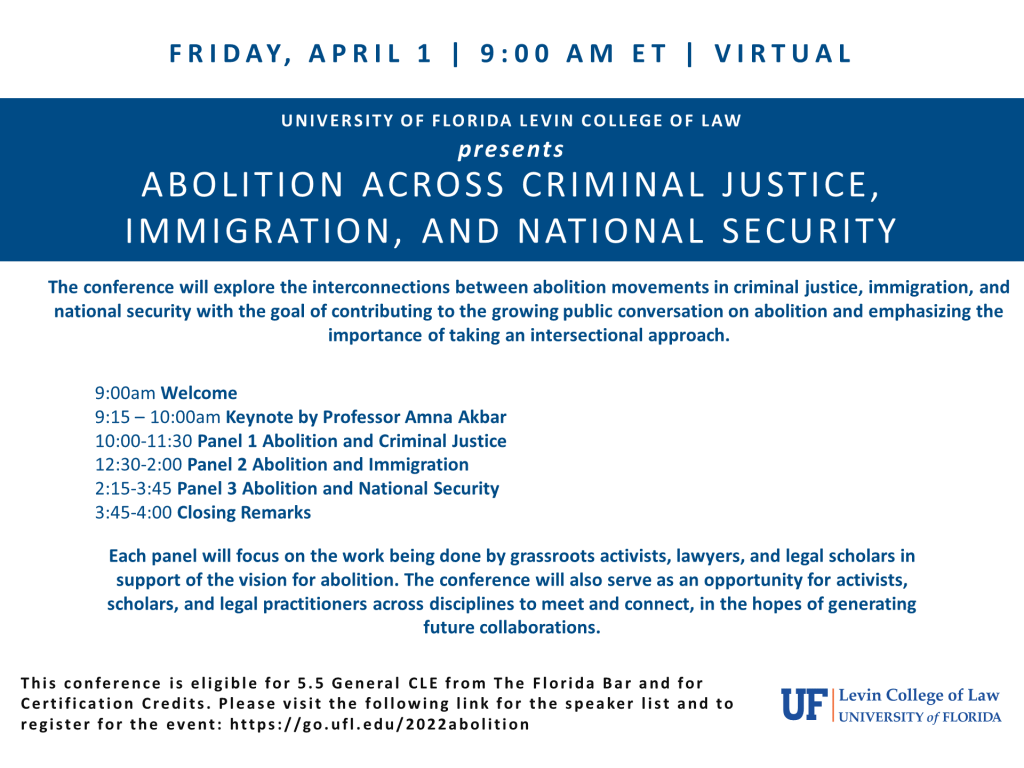 Friday, April 1, 2022 9:00 a.m. to 4:00 p.m. ET
Abolition Across Criminal Justice, Immigration, and National Security
Abolition Across Criminal Justice, Immigration, and National Security explores the interconnections between abolitionist movements in the criminal justice, immigration, and national security spaces. The conference's goal is to contribute to the growing public conversation on abolition by exploring the importance of taking an intersectional approach to the abolitionist project and underscoring the close relationship that exists by necessity between abolitionist movements across interrelated legal domains. The conference will also serve as an opportunity for activists, scholars, and legal practitioners across disciplines to meet and connect, in the hopes of generating future collaborations.
This event has been approved for:
5.5 General CLE
2.0 Criminal Trial Law Certification Credits
2.0 Immigration and Nationality Law Certification Credits
2.0 State and Federal Government and Administrative Practice Certification Credits
The 2022 Abolition Across Criminal Justice, Immigration, and National Security conference is hosted by the University of Florida Levin College of Law and will be held virtually via Zoom. Registration is free.
Conference Schedule:
Friday April 1, 2022
9:00 a.m. – 9:15 a.m. ET | Welcome Address and Introductions
9:15 a.m. – 10:00 a.m. ET | Keynote Speaker: Amna Akbar, Professor of Law at The Ohio State University, Moritz College of Law
10:00 a.m. – 11:30 a.m. ET | Panel 1: Criminal Justice

Jocelyn Simonson (she/her/hers), Professor of Law, Brooklyn Law School
Shakeer Rahman, lawyer and organizer, Stop LAPD Spying Coalition
Alla Alaghbri, lead at Believers Bail Out, Islamic Studies PhD student, University of Chicago Divinity School
Maya Ragsdale, executive director of Beyond the Bars, organizer, community lawyer
Colby Lenz, co-founder of Survived & Punished, organizer with the California Coalition for Women Prisoners (CCWP) and the Transgender Advocacy Group (TAG)
11:30 a.m. – 12:30 a.m. ET | Lunch
12:30 p.m. – 2:00 p.m. ET | Panel 2: Immigration

Alina Das, immigrant rights activist, lawyer, professor at New York University School of Law, and co-director of the NYU Immigrant Rights Clinic
Azadeh Shahshahani (she/her/hers), Legal and Advocacy Director for Project South
Haddy Gassama, National Director of Policy & Advocacy for the UndocuBlack Network
Setareh Ghandehari, Advocacy Director at Detention Watch Network
Jacinta Gonzalez, Senior Campaign Organizer with Mijente
2:00 p.m. – 2:15 p.m. ET | Break
2:15 p.m. – 3:45 p.m. ET | Panel 3: National Security

Maryam Jamshidi, Assistant Professor of Law at the University of Florida, Levin College of Law
Baher Azmy, Legal Director for the Center for Constitutional Rights
Darakshan Raja, Executive Director of Muslims for Just Futures
Fatema Ahmad (she/her/hers), Executive Director at Muslim Justice League
Shenaaz Janmohamed (she/her/hers), Director of Queer Crescent
3:45 p.m. – 4:00 p.m. ET | Closing Statements
The speaker lineup is subject to change.