Married Women and the Law in Britain, North America, and the Common Law World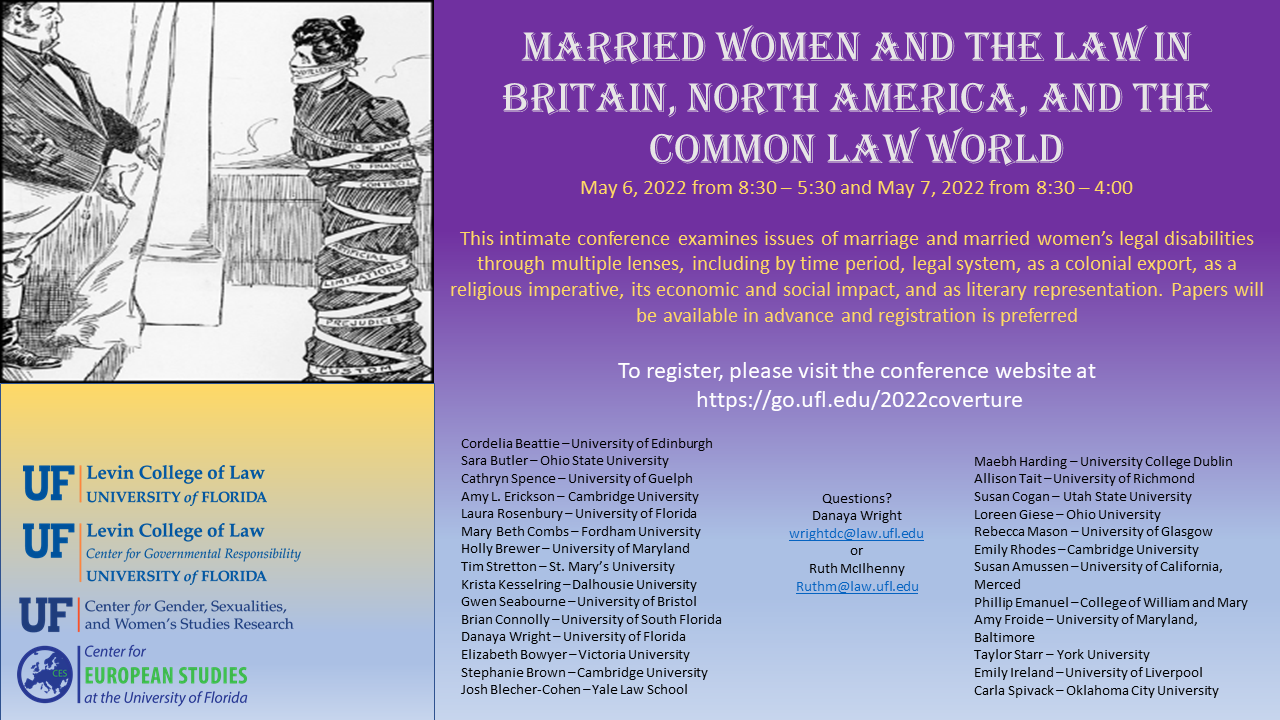 Friday & Saturday, May 6 – 7, 2022, 08:30 A.M. EST
UF Levin College of Law
The 2022 Conference on Coverture will be held May 6-7, 2022, and is sponsored by UF Levin College of Law, UF Law's Center for Governmental Responsibility, the Center for European Studies at the University of Florida, and the UF Center for Gender, Sexualities, and Women's Studies Research.
Friday May 6, 2022
8:30 a.m. – 11:00 a.m. | Ustler Hall | Continental Breakfast
9:00 a.m. | Welcome and Introductions
9:15 a.m. – 10:35 a.m. | Panel 1: The Social and Legal Constructions of Coverture

Cordelia Beattie – 'I was much surprised to hear this sad news': Alice Thornton and Coverture in Seventeenth-century England
Gwen Seabourne – Coverture and the medieval common law: patterns, gaps and puzzles in the weaving of the blanket
Holly Brewer – Transformations of Domestic Law (Redux): the Expansion of Coverture
10:45 a.m. – 12:25 p.m. | Panel 2: Women in the Courts

Sara Butler – Marriage and Malicious Prosecution in Late Medieval England
Rebecca Mason – Family conflict, legal strategies, and married women's litigation in early modern Scotland
Stephanie Brown – Feme Uncovered: Coverture and Crime in Late Medieval England
Krista Kesselring – From the Law-full to the Lawless: Women in the Late Elizabethan and Early Stuart Court of Star Chamber
12:25 a.m. – 1:20 p.m. | Ustler Hall Courtyard | Lunch
1:20 p.m. – 2:40 p.m. | Panel 3: Marital Breakdown

Amy Froide – Coverture and its Relationship to Marital Separations in Early Modern London
Tim Stretton – Combatting Marital Violence in England, 1500-1750
Emily Rhodes – 'As man and wife ought to doe': Unauthorized Marital Separation in Late Seventeenth-Century England
2:50 p.m. – 3:50 p.m. | Panel 4: Married Women and Religion

Susan Cogan – "Catholic Wives, Coverture, and Citizenship in Early Modern England"
Maebh Harding – Article 41, Catholic Teachings and the Ossification of Victorian Family Power Structures in Irish Law
4:00 p.m. – 5:00 p.m. | Panel 5: Married Women and Culture

Susan Amussen – Gender and Racial Order on the late 17th century English stage
Allison Tait – The Curiously Female Household: Forming Families in the Shadow of Coverture
Saturday May 7, 2022
8:30 a.m. – 11:00 a.m. | Ustler Hall | Continental Breakfast
9:00 a.m. – 10:40 a.m. | Panel 6: Wives and Wealth

Cathryn Spence – 'Given up by herself': Wives and wills in early modern Scotland
Carla Spivack – Coverture After Death: How Inheritance Law Robs Women of Financial Self Determination
Amy Erickson – Coverture and the labour market in England, 1690-1851 or Wealthy businesswomen, marriage and succession in 18th-century London
Jennifer Aston – Removing 'the Enjoyment of Her Property': Coverture, Trusts, and the Matrimonial Causes Act 1857
10:50 a.m. – 12:10 a.m. | Panel 7: Wives and The Economic Sphere

Emily Ireland – Who suffered under the South Sea Sufferers Bill 1721? Feme Coverts and parliamentary petitions in the wake of the South Sea bubble
Danaya Wright – The Liminal Status of Married Femes Sole
Mary Beth Combs – The 1870 Married Women's Property Act and the Marriage Patterns of Nineteenth Century British Shopkeepers
12:10 a.m. – 1:00 p.m. | Ustler Hall Courtyard | Lunch
1:00 p.m. – 2:20 p.m. | Panel 8: Women and Empire

Phillip Emanuel – My Lady beginns now to sollicit hard': Wives and the making of the imperial state
Brian Connolly – Sovereignty, Marriage, and the Intimate Sphere
Elizabeth Bowyer – Coverture and Married Women's Contracting in Settler Colonial Societies: New Zealand 1840-1920
2:30 p.m. – 3:50 p.m. | Panel 9: Marital Unity, Children, and Law Reform

Taylor Starr – External Advocacy for Legal Reform: Genesis of Ontario Family Law, 1918-1964
Josh Blecher-Cohen – Habeas Corpus for Child Custody in Nineteenth-Century American Legal Thought
Laura Rosenbury – The New Parental Rights
The speaker lineup is subject to change.