Rethinking Crime & Punishment: Criminal Justice Reform in the '20s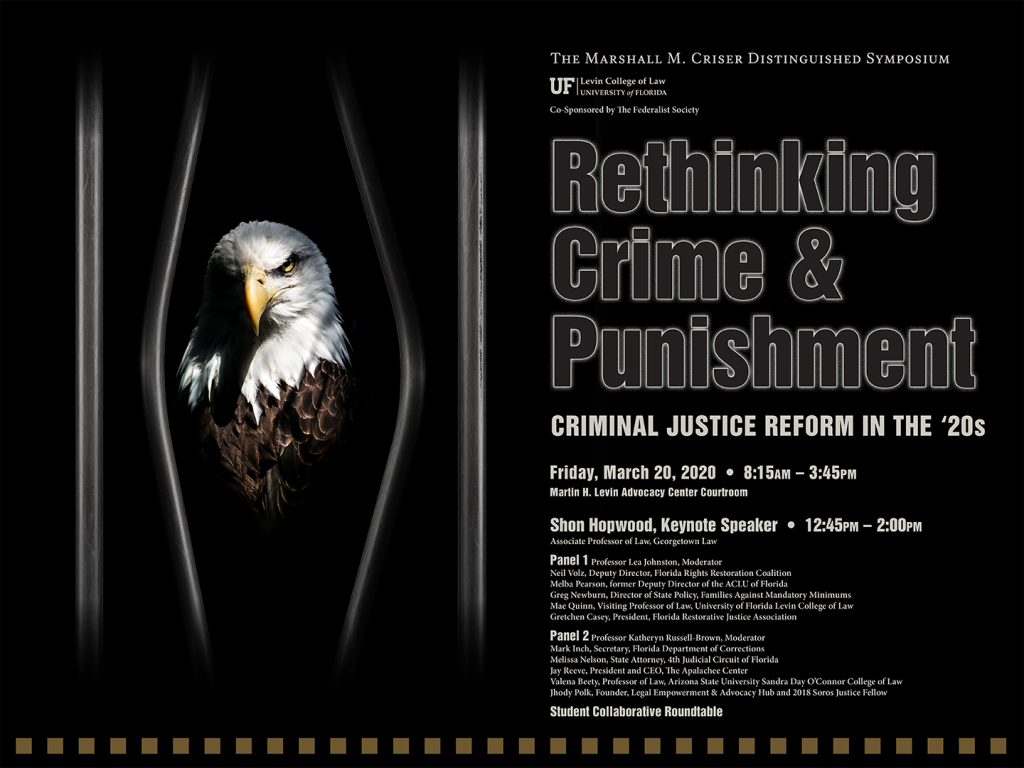 As of 3/12/2020, please note that this event is postponed. Updates will be made to this page as they become available.
Sponsored by the Marshall M. Criser Distinguished Lecture Series
This symposium will bring together experts to discuss possibilities for reimagining what the criminal justice system could look like in the coming years. Leaders in government, private enterprise, public interest, and academia will identify the most pressing current challenges in criminal justice reform and propose solutions that will transform our current incarceration-dependent approach.
CLE credit pending approval. Check back regularly for updates.
Rethinking Criminal Justice Schedule:
March 20, 2020
8:15am – 8:40am | Registration and Breakfast
8:40am – 8:45am | Opening Remarks
8:45am – 10:15am| Panel 1

Moderated by Professor Lea Johnston, University of Florida Levin College of Law
Neil Volz, Deputy Director, Florida Rights Restoration Coalition
Melba Pearson, former Deputy Directory of the ACLU of Florida
Greg Newburn, Director of State Policy, Families Against Mandatory Minimums
Mae Quinn, Visiting Professor of Law, University of Florida Levin College of Law
Gretchen Casey, President, Florida Restorative Justice Association

10:15am – 10:45am | Coffee Break
10:45am – 12:15pm | Panel 2

 Moderated by Professor Katheryn Russell-Brown, University of Florida Levin College of Law
Mark Inch, Secretary, Florida Department of Corrections
Melissa Nelson, State Attorney, 4th Judicial Circuit of Florida
Jay Reeve, President and CEO, The Apalachee Center
Valena Beety, Professor of Law, Arizona State University Sandra Day O'Connor College of Law
Jhody Polk, 2018 Soros Justice Fellow, Legal Empowerment and Community Peacebuilding Group

12:15pm – 12:45pm | Break
12:45pm – 2:00pm | Lunch and Keynote Speaker

Shon Hopwood, Associate Professor of Law, Georgetown Law School, co-sponsored by the Federalist Society

2:00pm – 2:15pm | Break
2:15pm – 3:45pm | Student Collaborative Roundtable