Professor Darren Hutchinson Named New Associate Dean for Faculty Development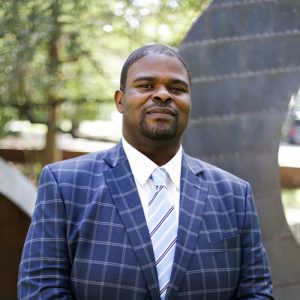 Laura A. Rosenbury, Dean of the University of Florida Levin College of Law and the Levin, Mabie & Levin Professor of Law, has chosen Professor Darren Hutchinson to serve as the Associate Dean for Faculty Development. Professor Hutchinson, who holds the Stephen C. O'Connell Chair, has taught at the College of Law since 2013, following a one-year visit in 2012. Professor Hutchinson's research in Constitutional Law, Civil Rights, Social Movements, and Identity Politics is widely cited by scholars nationally and internationally. Professor Hutchinson succeeds Professor Sharon Rush, the Raymond & Miriam Ehrlich Eminent Scholar, who held the Associate Dean position for the past five years.
In his new role, Professor Hutchinson will be responsible for nurturing and improving the intellectual and scholarly life of the College of Law and for mentoring and providing support for untenured professors. Professor Hutchinson believes that "the production of innovative scholarship that analyzes and offers solutions for critical social problems should be a paramount concern for legal educators." He is "excited by the opportunity to bring his scholarly experience and passion" to the Associate Dean position.
Dean Rosenbury said she is "confident that Darren's commitment and creativity will help the College of Law continue on a strong scholarly trajectory." Dean Rosenbury also praised Professor Rush for her invaluable contributions to the College of Law, stating that while she has enjoyed working with Sharon, she is excited that Professor Rush will now "have more time for her own scholarly projects."
Professor Hutchinson's numerous publications have appeared in some of the nation's most prestigious legal publications, including the Cornell Law Review, the UCLA Law Review, the Washington University Law Review, the Illinois Law Review, the Alabama Law Review, and the University of Pennsylvania Journal of Constitutional Law. Professor Hutchinson has also presented his research at many of the nation's top law schools, including Yale, Stanford, Columbia, Berkeley, Penn, Michigan, Virginia, Duke, Cornell and Georgetown.
Professor Hutchinson has published op-eds for the Washington Post, MSNBC, Tampa Bay Times, and Huffington Post. He has also been quoted in several national media, including the New York Times. Professor Hutchinson has appeared on National Public Radio, NBC Nightly News, and other broadcast media to discuss pressing public policy concerns.
Prior to joining the faculty at the College of Law, Professor Hutchinson was a professor at the American University Washington College of Law, where he was a two-time winner of an annual faculty prize for the most outstanding scholarship. Before that, he was a professor at Southern Methodist University Dedman School of Law. He was also a Visiting Professor at the University of Pennsylvania Law School and a Visiting Scholar at Yale Law School.
A native of Gainesville, Florida, Professor Hutchinson received his undergraduate education at the University of Pennsylvania, and he studied law at Yale Law School. He then practiced law at the New York City office of Cleary, Gottlieb, Steen & Hamilton, a top-ranked international law firm. He also clerked for the late Honorable Mary Johnson Lowe, formerly a United States District Judge for the Southern District of New York.