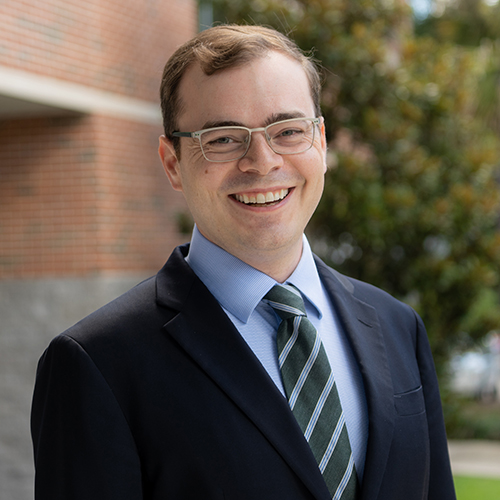 Andrew Hammond
Assistant Professor of Law
About
Professor Andrew Hammond writes and teaches in the areas of administrative law, civil procedure, and poverty law. His scholarship focuses on how agencies, courts, and legislatures respond to poor people's claims. His articles have appeared in the Michigan Law Review, the Northwestern University Law Review, and the Yale Law Journal, as well as other publications. In 2021, one of his papers won the American Constitution Society's Richard D. Cudahy Writing Prize for Regulatory and Administrative Law, and another won the Call for Papers Competition of the Southeastern Association of Law Schools (SEALS). He serves on the Executive Committee for both the Civil Procedure and the Poverty Law Sections of the Association of American Law Schools. He is an Affiliate Scholar of Georgetown Law's Center on Poverty and Inequality (GCPI).
Prior to joining the University of Florida law faculty, Hammond taught in the College and the Law School at the University of Chicago. Before entering academia, Hammond clerked for then-Chief Judge Diane P. Wood of the U.S. Court of Appeals for the Seventh Circuit and Judge Robert M. Dow of the U.S. District Court for the Northern District of Illinois. He then practiced as a legal aid attorney at the Sargent Shriver National Center on Poverty Law in Chicago, first as a Skadden Fellow and then Of Counsel.
Hammond graduated from the University of Chicago with a BA in Political Science and received his MPhil in Comparative Social Policy at the University of Oxford on a Rhodes Scholarship. He graduated from Yale Law School, where he served as Comments Editor of the Yale Law Journal, a Coker Fellow for Civil Procedure, and Co-Chair of the Clinical Student Board.
Education
J.D., Yale Law School
M.Phil., University of Oxford
B.A., University of Chicago
Courses
Analysis of a civil lawsuit from commencement through trial, including consideration of jurisdiction, venue, pleading, motions, discovery, and joinder of parties and of claims; right to trial by jury, selection and instruction of jury, respective roles of judge, jury, and lawyer; trial and post-trial motions; judgments.
Analysis of the administrative process, with an emphasis on the activities of federal regulatory agencies. Topics include legislative delegations of authority to agencies, executive branch controls, rulemaking and adjudicatory procedures, due process rights, and the scope of judicial review of administrative decision making.
This seminar offers an introduction to the substantive law and procedure of public benefit programs in the United States. The seminar will identify persistent controversies in poverty law, including means-test design, funding structure, federalism issues, and behavioral rules, as well as how poverty law interacts with other areas of law such as immigration law and disability law. Throughout, we will examine to what extent the agencies that administer these public benefits are vulnerable to federal litigation and what remedies may result from such litigation.
Publications
Law Review Articles
Other Publications
Americans Need a Stronger Safety Net, Not Just Stimulus Checks, The Regulatory Review (Jan. 11, 2021) (co-authored with Ariel Jurow Kleiman and Gabriel Scheffler) [Link]
How the COVID-19 Pandemic Has and Should Reshape the American Safety Net, 105 Minnesota Law Review Headnotes 154 (2020) (co-authored with Ariel Jurow Kleiman and Gabriel Scheffler) [SSRN]
The Master of the Complaint? Pleadings In Our Inegalitarian Age, in A Critical Guide to Civil Procedure (Coleman et al. eds.) (forthcoming 2021)
Poverty Lawyering in the States, in Holes in the Safety Net: Federalism & Poverty (Rosser, ed.) (2019) [SSRN] [Link]
SNAP's Time Limit: Emerging Issues in Litigation and Implementation, Clearinghouse Review (Apr. 2017) (co-authored with MacKenzie Speer)
Now What? Poverty-Fighting Ideas for Another Administration, Clearinghouse Review (Jan. 2017) (co-authored with John Bouman & Marie Claire Tran-Leung)
Activation for All: Welfare Reform in the United Kingdom, 1995 to 2009, in Activation or Workfare? Governance and the Neoliberal Convergence (Ivar Lodemel & Amilcar Moreira ed.) (2014) (co-authored with Julia Griggs & Robert Walker) [Link]
U.S. Ratification of the UNCRC and Reducing Child Poverty, 89 Child Welfare 159 (2010) (co-authored with J. Lawrence Aber & Scott Thompson)