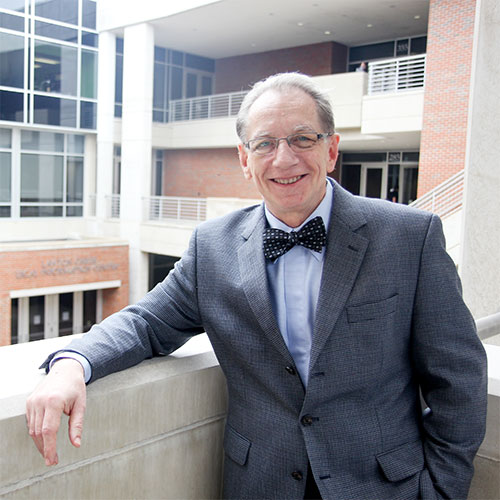 Henry T. Wihnyk
Senior Legal Skills Professor
Mailing Address:
Box #117624 Gainesville, FL 32611
Email:
Wihnyk@law.ufl.edu
Phone:
(352) 273-0881
About
Henry Wihnyk has been a member of the Legal Skills faculty since 1990. In addition to teaching Legal Writing, Legal Research, and Appellate Advocacy, he developed and taught the course, Advanced Techniques in Appellate Advocacy. Recognizing the need for students to learn and practice speaking skills beyond the courtroom, he developed and teaches the course, Public Speaking for Lawyers.
Professor Wihnyk has participated in several CLE presentations and writing workshops benefiting practicing lawyers and judges. These include,"Improving Decision Writing" at the Workers Compensation College, International Association of Industrial Accident Boards and Commissions (2003), and "Appellate Writing and Oral Argument" (with Prof. Tracy Reid) at the 2004 and 2005 Capital Cases Seminar, Florida Commission on Capital Cases.
He is active in the legal writing academy as a member of the Legal Writing Institute. Professor Wihnyk has presented and served as an invited panelist at conferences of the Legal Writing Institute. His presentations include "Enhancing the Pedagogy of Oral Argument and First-Year Moot Court (2008) and "Techniques for Teaching How to Shift from Objective to Persuasive Writing" (with Prof. Patricia Thomson) (1997).
Prof. Wihnyk taught Appellate Advocacy, Legal Writing, and Torts at the Center for the Study of American Law, University of Warsaw Faculty of Law and Administration. Additionally, while teaching in Warsaw, he served on the panel "Legal Education in the Era of Globalization – European and American Perspectives," presented at the Polish-American Symposium on Current Legal Issues and Legal Education in a Global Society, and on the panel "Globalization of Legal Education," presented by the University of Warsaw Faculty of Law and Administration. He also presented "Appellate Advocacy from a Common Law Perspective," to the students in the Common Law Society of the University of Warsaw Faculty of Law and Administration.
Prof. Wihnyk is admitted to practice in the Supreme Court of the United States, the United States Court of Appeals, 11th Circuit, the United States District Court, Southern District of Florida, and the Florida Bar.
He is a member of the Legal Writing Institute and serves on the Board of Reviewers, Contributors and Editors of "The Redbook, A Manual on Legal Style" 2d and 3d Editions.
Education
LL.M., Columbia University
J.D., Nova University (cum laude)
B.A., Florida Atlantic University
Teaching and Scholarship
Legal Research & Writing, Appellate Advocacy, Advanced Techniques in Appellate Advocacy, Public Speaking for Lawyers.
Professional Activities
University of Florida: Joined Law faculty in 1990. Director, Legal Research & Writing and Appellate Advocacy (1992).
Faculty Advisor to Moot Court Team. Member of Dean Search Committee (2002), Strategic Plan Steering Committee (2001-02), Admissions Committee.
Professional Affiliations: The Florida Bar, U.S. Supreme Court, U.S. Court of Appeals (11th Circuit), U.S. District Court (Southern District of Florida), Legal Writing Institute, Association of Legal Writing Directors.
Courses
First half of two-part course, both required for graduation. Includes emphasis on basic legal research and writing legal memoranda. Graded on a scale of Satisfactory (S), Honors (S+), or Unsatisfactory (U). Must be completed with a grade of "S" or better even if this necessitates repeating course following semester.
As a continuation of LAW 5792, a factual situation is presented to the student by means of a hypothetical appellate record. The record is the basis for the preparation of an appellate brief and oral arguments.
Provides in-depth, advanced instruction and practice in persuasive written and oral legal analysis, focusing on appellate advocacy techniques. Builds upon training provided in first-year writing courses.
This course will help students develop the skills relied upon by lawyers when engaged in public speaking situations other than in litigation. These include appearing before governmental bodies, speaking to lay groups, and presenting to colleagues, clients, potential employers, and media. Students will examine communication theories, strategies and techniques needed for effective public speaking. The primary means of instruction will require students to prepare, present and evaluate several speeches.
Students serve as instructors in the first-year Research Writing and Appellate Advocacy course under the direction of the assistant directors of the program. Letter grades are awarded on the basis of writing assignments, instruction and counseling prepared and performed by the student instructors.
Continuation of LAW 6953. LAW 6954 must be taken or no credit toward graduation will be allowed for LAW 6953.
Publications
Legal Writing: A Skill Polish Law Students Should Master in Law School, 8 Warsaw U. L. Rev. 148 (2008) [SSRN]