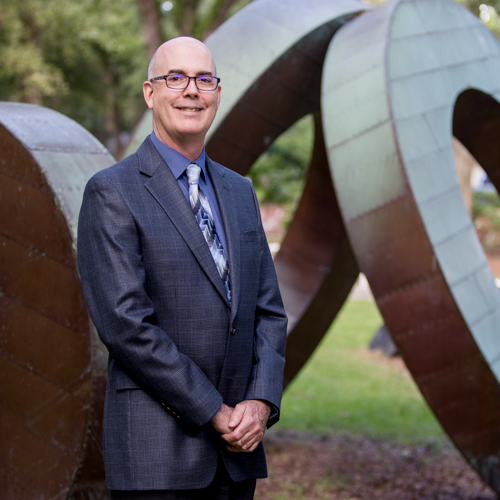 Jeffrey T. Grater
Senior Legal Skills Professor
Director, Virgil Hawkins Civil Clinics
Mailing Address:
Box #117626 Gainesville FL 32611
Email:
grater@law.ufl.edu
Phone:
(352) 273-0800
About
Jeffrey Grater is the Director of the Virgil Hawkins Civil Clinics and a Senior Legal Skills Professor. His mission at UF Law is to assist his students in their transition from law student to skilled, professional, and ethical practicing lawyer. Through his clinical practice, Prof. Grater and his students deliver high quality legal services to low-income clients.
Students come to Prof. Grater's courses and clinics well versed in doctrinal law through the excellent teaching of his UF Law colleagues. He creates learning laboratories in which his students identify what they are doing well and what needs improvement. Prof. Grater, through his teaching, coaching, mentoring, and careful critique, further develops in his students the legal and professional skills they will use for the rest of their careers.
Education
J.D., UF Levin College of Law (with honors)
B.A., University of Florida (with high honors)
Teaching and Scholarship
Family law and practice, interviewing and counseling
Professional Activities
University of Florida: Joined college of law faculty in 1996, Virgil Hawkins Civil Clinic Legal Skills Professor, promoted to Senior Legal Skills Professor in 2005. UF Law teacher of the year in 2002.
Professional Experience: Attorney, Three Rivers Legal Services (1988-96); Law Clerk, Florida Fifth District Court of Appeals Judge Joe Cowart Jr. (1985-1988). Certified by the Florida Supreme Court in family and county court mediation (1995).
Professional Affiliations: Florida Bar, admitted 1985; Florida Bar Family Law Section; American Bar Association; Clinical Legal Education Association; Eighth Judicial Circuit Bar Association.
Courses
The Virgil Hawkins Family Advocacy Clinic operates simultaneously as a law office and a classroom. Students serve as first chair legal counsel representing real clients in real cases. They have the opportunity to interview and counsel clients, draft pleadings, motions, orders, judgments, and other legal documents, conduct discovery, argue motions, negotiate, advocate at mediation and, if necessary, take a case to trial. Skill development is enhanced through presentations on various legal skills, simulated legal practice classes, analysis of applicable laws, court observations, self-reflection, and faculty critique.
Selected Family Advocacy Clinic students return to enhance their learning and refine their lawyering skills through client representation, leadership, and mentoring other clinic students.
An examination of theories and skills involved in interviewing and counseling clients, and basic negotiation skills. Readings, videotapes, role plays, and simulations will be used.
This course loosely tracks what students would learn in the interviewing and counseling portion of UFLaw's traditional course: Interviewing, Counseling, and Negotiation. It is split into two main components. First, students learn the theory behind the skills and models of how to apply them. Second, students practice these skills through simulated client conferences and critique. Part 1 of the course is delivered via web. In Part 2 of the course, students meet in small group with other students and clinic faculty to practice skills with live feedback.