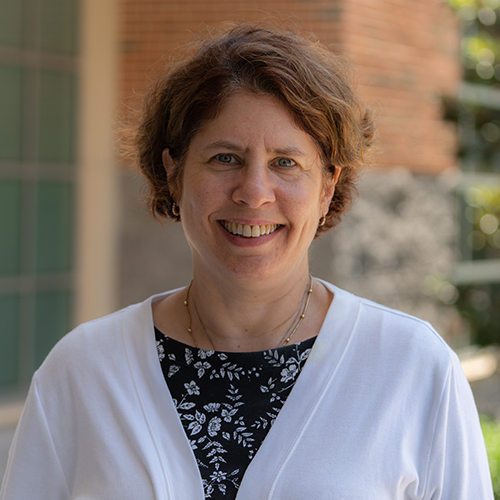 Jennifer S. Bard
Visiting Professor of Law
About
Jennifer S. Bard is a professor of law at the University of Cincinnati College of Law where she also holds an appointment as professor in the Department of Internal Medicine at the University of Cincinnati College of Medicine. From 2015-2017 she was the Dean and Nippert Professor of Law . Prior to joining the University of Cincinnati, Bard was associate vice provost for academic engagement at Texas Tech University and was the Alvin R. Allison Professor of Law and director of the Health Law and JD/MD program at Texas Tech University School of Law. From 2012 to 2013, she served as associate dean for faculty research and development at Texas Tech Law.
Bard has also held appointments in the Graduate School of Biomedical Sciences as a member of the founding faculty of the public health program and as adjunct professor in the Department of Psychiatry at the Texas Tech University Health Science Center's School of Medicine. She has been a visiting scholar at Harvard Law School's Petrie-Flom Center for Health Law Policy, Biotechnology, and Bioethics and the O'Neill Institute for National & Global Health Law at Georgetown Law and a visiting professor at the University of Iceland's Law Faculty, Penn State University Law and Medical Schools, Drake University Law School, and in the LLM program at LaTrobe University in Melbourne, Australia.
Bard has been recognized for her teaching, including being named "Outstanding First Year Teacher" at Texas Tech Law. She has taught Torts, Public Health Law, Human Subject Research Law, and Constitutional Issues in Health Law. She began her academic career as a faculty member at the University of Texas Medical Branch at Galveston.
Bard is a prolific and highly successful scholar in the disciplines of law, public health, and bioethics. She has published 30 articles and book chapters, including articles in the University of Utah Law Journal, The American Journal of Bioethics, and the University of Houston International Law Journal on topics ranging from the regulation of e-cigarettes, international human subject research, whistleblowing in higher education, the use of "dangerousness" as a factor in death penalty sentencing, corporate wellness programs, and posthumous reproduction. Her work is widely cited by publications in a variety of disciplines.
Bard has been asked to present scholarly papers at conferences all over the world in law, bioethics, and public health, most recently including the European Law Faculties (ELFA) Annual Meeting in Barcelona, Yediteppe University in Istanbul, Turkey, and the Athens Institute for Education and Research 11th Annual International Conference on Law, Athens, Greece. She is frequently sought out by the media on issues of law and public health and has been interviewed by The Wall Street Journal and Money Magazine. She often publishes opinion pieces in print and is a contributing editor to The Harvard Bill of Health Blog.
She is an elected member of the American Law Institute and has served as book review editor of the Journal of Legal Medicine, a publication of the American Academy of Legal Medicine. She also was a past-chair of two American Association of Law School's sections: Law, Medicine, and Health Care and Mental Disability.
Following law school, Bard clerked for the late Honorable Frank H. Freedman, chief judge for the U.S. District Court for the District of Massachusetts. She was then a litigation associate at Shearman & Sterling in New York City where she worked on complex commercial litigation and international mergers and acquisitions. Before entering academe, she was an assistant attorney general in Connecticut in the Medicaid Fraud/Whistleblower Unit.
She is a member of the bars of New York, Connecticut, Massachusetts (inactive), and the District of Columbia and before the U.S. Supreme Court, Ninth Circuit Court of Appeals, Military Court of Appeals, Southern District of New York, Eastern District of New York, and the District of Connecticut.
Education 
B.A., Wellesley College
Honors School of Jurisprudence, Oxford University, St. Hilda's College
J.D., Yale Law School
M.P.H., University of Connecticut
Ph.D., Texas Tech University
Courses
Addresses the powers and duties of government to assure the conditions for healthy populations and examines tensions between this goal and civil liberties, such as infectious disease surveillance vs. privacy, vaccine requirements vs. conscientious objection, forced treatment/quarantine vs. autonomous medical decisionmaking, and advertising restrictions vs. free expression.
The central question in Torts is how society should respond to the problem of high dollar typically accidental physical harm, when injury is unfortunate, but unintended. Our course will focus mostly on the problem of unintentional harm, as applied to bodily and emotional harms. Theories covered will include negligence, strict liability, products liability and intentional torts as well as all their affirmative defenses. As there are seldom clear answers with legal questions spanning so many perspectives, and amorphous factual inquiries (including the role of the judge and jury, circumstantial evidence and fundamental problems), Torts trains students to answer timeless amorphous questions, thereby developing keen policy and argumentation skills, applicable to a wide variety of legal areas.
This course provides students with an introduction to the law of remedies. It emphasizes the important interrelationship between rights and remedies and the remedial consequences of framing a cause of action. Effective litigators need to understand the types of remedies that are available to their clients and how to seek them. It considers five primary topics: injunctions, damages, restitution, declaratory judgments, and contempt.
Publications
Jennifer S. Bard, Nutshell: Human Subject Research (Under Contract to West Publishing).
Jennifer S. Bard, How the 21st Century Cures Act Can Mitigate the Ever Growing Problem of Mass Incarceration, 44 American Journal of Law & Medicine 387-342 (2018) (Symposium Issue).
Jennifer S. Bard, Oh Yes, I Remember It Well. Why the Inherent Unreliability of Human Memory Makes Brain Imaging Technology a Poor Measure of Truth-Telling in the Courtroom, 94 Oregon Law Review 1 (2015).
Jennifer S. Bard, Diagnosis Dangerous: The Misuse of Predictions of Dangerousness by Mental Health Professionals in Capital Sentencing, 2015 Utah L. Rev. (Symposium Issue).
Jennifer S. Bard, Introducing New Users to an Old Poison: The Tobacco Industry's Efforts to Thwart the FDA's Regulation of E-Cigarettes, 8 St. Louis U. J. Health L. & Pol'y (2015).
Jennifer S. Bard & Lindsay Penrose, Responding to Requests for Assisted Reproductive Technology Intervention Involving Women Who Cannot Give Consent, 24 Health Matrix J. L.–Med. (2015).
Jennifer S. Bard, A Taxonomy for Analyzing Legal and Ethical Issues Arising When Conducting Human Subject Research Outside the Borders of One's Own Country, 37 Hous. J. Int'l L. 1 (2015)
Jennifer S. Bard, The Professor as Whistleblower: The Tangled World of Constitutional and Statutory Protections, 12 Dartmouth L.J 1. ( 2015). Jennifer S. Bard, Would Research Ethics Survive the Defunding of the Research University?, 44(1) Hastings Ctr. Rep. 11–12 (Jan.–Feb. 2014).
Jennifer S. Bard & Craig M. Klugman, Futility on the Border: What should a hospital do for an undocumented person in a vegetative state who can no longer benefit from hospital treatment?, Hastings Ctr. Rep. (July–Aug. 2013).
Jennifer S. Bard, Putting Patients First: How the FDA Could Use Its Existing Powers To Reduce Post- Market Adverse Events , 10(2) Ind.Health L.Rev. 495 (2013).
Craig M. Klugman & Jennifer S. Bard, Medicolegal & Ethical Aspects of Prehospital Emergency Medicine, in The ABC of Prehospital Emergency Medicine (Boylan M, ed.) (Wiley-Blackwell) (2013).
Jennifer S. Bard, What to Do When You Can't Hear the Whistleblowing: A Proposal to Protect the Public's Health by Providing Whistleblower Protection for Medical Researchers, 9 Ind. Health L. Rev. 1 (2012).
Page 5 of 13
Jennifer S. Bard, Closing the Gaps in Human Subject Research Law: Regulating Clinical Research Conducted Outside of the United States, 21 Annals Health L. 201 (2012).