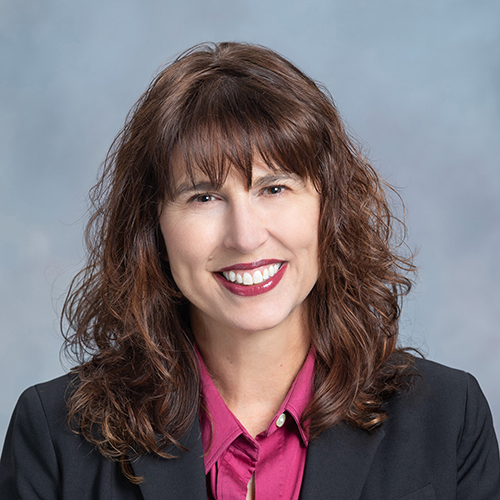 Judy Clausen
Legal Skills Professor
Mailing Address:
Spencer L. Holland Law Center
P.O. Box 117620
Gainesville, FL 32611-7620
Email:
jclausen@law.ufl.edu
Phone:
(352) 273-0631
About
Professor Clausen serves as Legal Skills Professor and Supervising Attorney for the Veterans and Servicemembers Legal Clinic. In the clinic, she teaches and supervises students who assist in representing Veterans in appeals to the U.S. Court of Appeals for Veterans Claims and discharge upgrades. Students also deliver Know Your Rights presentations to Veterans, prepare legal memoranda for judge advocates, draft wills and advance directives for Veterans, and assist with claims and appeals within the Department of Veterans Affairs, and landlord-tenant, guardianship, and consumer law matters.
Prior to teaching at UF Law, Professor Clausen was a professor at Florida Coastal School of Law where she taught Regulation of the Healthcare Industry (Advanced Legal Writing), Lawyering Process for Litigation Practice (Persuasive Writing, Oral Advocacy, and Mediation and Negotiation Skills), Pre-trial Drafting, Contracts I & II, Sales, Securities Regulation (Distance Education), Domestic Violence (Advanced Legal Writing), Criminal Law, and Criminal Procedure.
Prior to becoming a law professor, she served as Of Counsel for Murphy & Anderson, P.A. where she litigated in state and federal court, representing corporate and individual plaintiffs and defendants in complex commercial cases. Prior to becoming a commercial litigator, she served as Associate General Counsel for the University of North Florida where she drafted and promulgated Florida Administrative Code rules, negotiated and drafted business and educational contracts, and advised on First Amendment and privacy law issues.
Before she worked as a university lawyer, she served as Senior Attorney for the Government Accountability Office, Office of General Counsel. She began her legal career active duty Army in the Pentagon where she served in the Honors Program as an Assistant to the General Counsel of the Department of the Army. In this position, she prepared Foreign Intelligence Surveillance Act warrant applications and Freedom of Information Act and Privacy Act appeal opinions, and advised the General Counsel and Office of the Secretary of the Army concerning intelligence operations, counterintelligence and sensitive criminal investigations, special operations, special access program oversight, classification of information, personnel security, information operations, and Title 10 organizational issues. In law school, she served as a judicial intern for Judge Susan Crawford of the U. S. Court of Appeals for the Armed Forces.
Education
J.D., University of Florida Levin College of Law
B.A., Georgetown University
Teaching and Scholarship
Appellate Advocacy, Contracts, Legal Writing, Veterans and Service Members Legal Clinic
Professional Activities
Former Member, Board of Trustees, Mission House, a nonprofit organization empowering individuals affected by homelessness by providing medical care, food, clothing, and support services (2014-2017)
Admitted to practice before U.S. Court of Appeals for Veterans Claims
Department of Veterans Affairs Accredited Attorney
Member, U.S. Court of Appeals for Veterans Claims Bar Association
Member, Federal Bar Association
Veterans & Military Law Section
Member, American Bar Association
Military Pro Bono Project, Veterans Claims Assistance Network, Military and Veterans Health Law Substantive Interest Group
Member, Florida Bar (1995-present)
Member, Florida Bar Association
Appellate Practice, Health Law, and Public Interest Law Sections
Member, Jacksonville Bar Association
Veterans and Military Affairs Section, former Chair of Health Law Committee (2015-2017), and former Mentor in Mentoring Program
Courses
As a continuation of LAW 5792, a factual situation is presented to the student by means of a hypothetical appellate record. The record is the basis for the preparation of an appellate brief and oral arguments.
First half of a two-part course, both required for graduation. Includes emphasis on written legal analysis and preparation of predictive legal memoranda.
An introduction to the law and theory of legally enforceable agreements and promises, including elements of contract formation; consideration; effects of non-performance; conditions for relief from or discharge of obligations; and remedies.
The latest addition to our clinic offerings, this clinic offers students an opportunity to develop essential lawyering skills while serving military veterans and service members on a pro bono basis. Supervised students assist in providing legal services to veterans and service members in a variety of areas, including discharge review, advance healthcare planning, expungement of criminal records, landlord-tenant, consumer protection, driver's license reinstatement, appeals for disability compensation to the US Court of Appeals for Veterans Claims, and other matters.
Publications
Top 10 Discharge Upgrade Practice Tips, 7 Stetson J. Adv. & L. (forthcoming 2020) (with Colleen Miller and Danica Gonsalves).
Regulate Physician Restrictive Covenants to Improve Healthcare, 108 Ky. L. J. 111 (2019). [SSRN]
An Americans with Disabilities Act Critique of Advance Directive Override Provisions, 71 N.Y.U. Ann. Sur. Am. L. 25 (2015). [SSRN]
Bring Ulysses to Florida: Proposed Legislative Relief for Mental Health Patients, 16 Marq. Elder's Advisor 1 (2014). [SSRN]
Making the Case for a Model Mental Health Advance Directive Statute, 14 Yale J. Health Pol., L., & Ethics 1 (2014) (peer-reviewed journal). [SSRN]
"Your Honor, May I Have That in Writing?" – A Proposed Response to Violations of the Federal Sentencing Written Reasons Requirement, 42 U. Tol. L. Rev. 705 (2011). [SSRN]
Personal Jurisdiction Based on Internet Activities: Oldfield v. Pueblo De Bahia Lora, S.A. – The Eleventh Circuit Finally Discusses Zippo but Leaves Lower Courts Needing More Guidance, 11 Fla. Coastal L. Rev. 53 (2009). [SSRN]
Beware – Florida's Long Arms Can Reach Through Cyberspace and Grab Unsuspecting Professionals: Personal Jurisdiction in Professional Malpractices Cases, 10 Fla. Coastal L. Rev. 505 (2009).
 Empower Mental Health Patients to Prevent Crisis, Jacksonville Daily Record, August 2017.