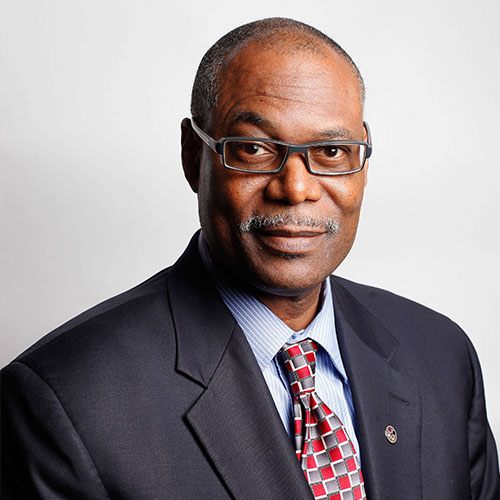 Kenneth B. Nunn
Professor of Law
Associate Director, Center on Children and Families
Assistant Director, Criminal Justice Center
Mailing Address:
Box #117625 Gainesville, FL 32611
Email:
nunn@law.ufl.edu
Phone:
(352) 273-0660
About
Education
J.D., University of California
A.B., Stanford University
Teaching and Scholarship
Criminal Law, Criminal Procedure, Race Relations and the Law, Police Brutality, Race and the Criminal Process and Law and Cultural Studies.
Professional Activities
University of Florida: Joined College of Law faculty in 1990 as Assistant Professor; Advisor to Black Law Student Association (1990-2002), Advisor to Trial Team (1990-94, 1999-2002). Named Associate Professor (1993-95), Professor of Law (1995-present), Teacher of the Year (1996), Professor of the Year (1998) and Associate Dean (1999-2000).
Visiting Faculty: Makerere University Faculty of Law (1997, Kampala, Uganda); Washington and Lee University School of Law (1998).
Legal Practice: Deputy Public Defender, Office of the Public Defender (San Francisco, Calif., 1985-86), Staff Attorney, Southern Africa Project, Lawyer's Committee for Civil Rights Under Law (Washington, D.C., 1986-87), Staff Attorney, Public Defender Service (Washington, D.C., 1987-90).
Professional Affiliations: Board of Directors, Florida Institutional Legal Services, Inc.; Gainesville Area ACLU Legal Panel; Association of American Law Schools, Committee on Recruitment and Retention of Minority Law Teachers; Cooperating Attorney, NAACP Legal Defense Fund; American Bar Association; ABA Criminal Justice Section, Race and Racism in the Criminal Justice System Committee co-chair and Rules of Criminal Procedure and Evidence Committee; National Association of Criminal Defense Lawyers; Executive Committee, National Association for Public Interest Law; Bar of the District of Columbia; State Bar of California.
Courses
Substantive law of crimes, including principles of punishment, elements of typical crimes, responsibility and defenses.
Covers commencement of formal criminal proceedings; bail, the decision to prosecute, the grand jury, the preliminary hearing, venue, joinder and severance, and speedy trial.
Police as a social institution, including personnel, bureaucratic structure and incentives. Also covers police practices such as arrest, search, seizure, wiretapping, eavesdropping, use of informers, entrapment, confessions and lineups.
Publications
Books
Associate Editor for Law and Society, MacMillan Encyclopedia of Race and Racism (Thomson Pub., 2007).
Chapters in Books
"Still Up On the Roof: Race, Victimology and the Response to Hurricane Katrina," in Hurricane Katrina: America's Unnatural Disaster(Jeremy I. Levitt & Matthew C. Whitaker, eds.) (Univ. of Nebraska Press, 2009).
"Rosewood," in When Sorry isn't Enough: The Controversy over Apologies and Reparations for Human Injustices (Roy L. Brooks, ed., 1999).
"The Black Nationalist Cure to Disproportionate Minority Contact," in Justice For Kids: Keeping Kids Out of the Juvenile Justice System (Nancy Dowd, ed.) (NYU Press, 2011
Articles
"The 'R-Word': A Tribute to Derrick Bell," 22 Florida Journal of Law and Public Policy 431 (2011)
"Diversity As a Dead End," 35 Pepp. L. Rev. 705 (2008).
"Foreword: New Explorations in Culture and Crime—Definitions, Theory, Method," 17 Fla. J.L. & Pub. Pol'y vii (2006).
"Diversity Matters: Race, Gender & Ethnicity in Legal Education," 15 Fla. J.L. & Pub. Pol'y 11 (2003). [SSRN]
"Race, Crime and the Pool of Surplus Criminality: Or Why the War on Drugs Was a War on Blacks," 6 Iowa J. Gender Race & Just. 381 (2002), excerpted and reprinted in Structured Inequality in the United States: Critical Discussions on the Continuing Significance of Race, Ethnicity and Gender (Aguirre & Baker, eds., 2d ed. 2007).
Presentations
Panelist, "Fourth Anniversary Commemoration of Hurricane Katrina: 'America's Natural Disaster,'" Center for International Law and Justice, Florida A&M University College of Law, Orlando, FL (Sept. 3, 2009).
Paper, "Barack Obama and the New Politics of Race: 'Plus a Change, Plus C'est la Meme Chose'," presented at Roundtable—Changing the Game: Barack Obama and the New Politics of Race, Law and Society Association, Annual Meeting, Denver, Colo. (May 29, 2009).