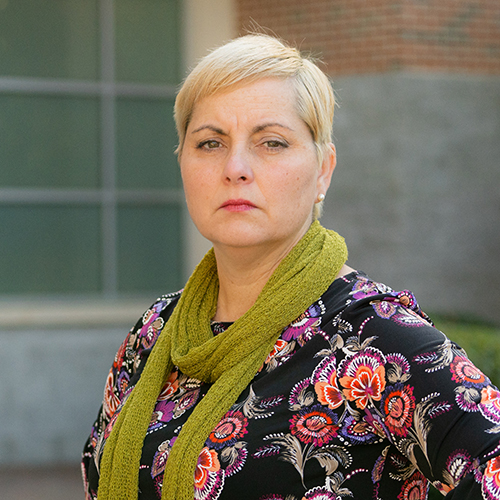 Mae Quinn
Visiting Professor of Law
About
Mae C. Quinn is a leading voice in legal education and law reform. Her scholarly work bears witness to the ways in which law and legal institutions may create and perpetuate marginalization and vulnerability. At the same time, it promotes action and change, offering concrete legal solutions and methods for improvement. Her teaching and litigation have been recognized with numerous honors including the Missouri Lawyers' Legal Champion Award and highlighted by national and international press outlets, including National Public Radio, the Washington Post, the Nation, and Australian public television.
Quinn's juvenile defense and second-chance sentencing initiatives for youthful offenders, undertaken in collaboration with law students, have been used as practice models, contributed to United States Department of Justice reform efforts, and included in training materials produced by the National Juvenile Defender Center. Quinn has also served as an expert witness before the Ferguson Commission, legislative bodies, and in other settings, in addition to training legal professionals across the country at programs like the Darrow-Baldus Criminal Defense College, Ethical Society of Police, National Association of Children's Counsel, and National Institute for Trial Advocacy.
In 2015, Quinn was recruited from her tenured professorship at Washington University at St. Louis to become the Inaugural Director of the MacArthur Justice Center at St. Louis (MJC-STL), a community-based, civil rights law office established in response to events in Ferguson. During her two-year leave from academia to launch MJC-STL, Professor Quinn sued the City of St. Louis to end municipal court cash bail practices, surfaced Missouri parole board misconduct resulting in the forced resignation of a Board member and personally represented juvenile defendants, parents, and #BlackLivesMatter protesters – including successfully defending an individual arrested at a Donald Trump rally for allegedly laughing at the candidate. Quinn also served as lead counsel for a state-wide federal class action that resulted in Missouri's parole revocation system being deemed unconstitutional for neither providing hearings nor appointing counsel for thousands of indigent parolees. Reforms stemming from Quinn's advocacy and scholarship continue in Missouri.
Quinn has also taught at Georgetown University Law Center, the University of Tennessee College of Law, Pennsylvania State College of Law, Benjamin N. Cardozo School of Law, and as a Fulbright Senior Specialist at law schools in Honduras.
Professor Quinn's scholarship, cited widely by courts, advocates, and academics alike, has been published in leading journals including the Boston College Law Review, BYU Law Review, Iowa law Review, Wake Forest Law Review, Washington and Lee Law Review, Harvard Journal of Gender and Law, and New York University Review of Law and Social Change.
Education
LL.M. in Advocacy, Georgetown University Law Center
J.D., University of Texas School of Law
B.A. in English, State University of New York at Albany
Selected Recent Publications
Constitutionally Incapable: Parole Boards as Sentencing Courts, 73 SMU Law review (forthcoming 2019).
Wealth Accumulation at Elite Colleges, Endowment Taxation, and the Unlikely Story of How Donald Trump Got One Thing Right, 54 Wake Forest L. Rev. 451 (2019) (selected symposium article) [SSRN]
Fallen Woman (Re)Framed: Judge Jean Hortense Norris – New York City, 1912-1955, 67 Kansas L. Rev. 451 (2019) [SSRN]
Missouri *@!!?@! – Too Slow, 62 St. Louis U.L.J. 847 (2018) (invited/symposium essay) [SSRN]
Civil Arrest? (Another) St. Louis Case Study in Unconstitutionality, 52 Wash. U.J. of L. and Policy 95 (2016) (invited/symposium essay; co-authored with Eirik Cheverud) [SSRN]
"Post-Ferguson" Social Engineering: Problem-Solving Justice or Just Posturing, 59 Howard L. Rev. 739 (2016)(invited/symposium article) [SSRN]
Chaining Kids to the Ever-Turning Wheel: Other Contemporary Costs of Juvenile Court Involvement, 73 Wash. & Lee L. Rev. Online 160 (2016) (invited/symposium essay; co-authored with former student Candace Johnson) [SSRN]
In Loco Juvenile Justice: Minors in Munis, Cash from Kids, and Adolescent Pro Se Advocacy – Ferguson and Beyond, 2015 B.Y.U. L. Rev. 1247 (2015) [SSRN]
Against Professing: Practicing Critical Criminal Procedure, 60 St. Louis U.L.J. 515 (2015) (invited/symposium essay) [SSRN]
Giving Kids their Due: Theorizing a Modern Fourteenth Amendment Framework for Juvenile Defense Counsel, 99 Iowa Law Review 101 (2014)(invited/symposium article) [SSRN]
From Turkey Trot to Twitter: Policing Puberty, Purity, and Sex Positivity, 20 N.Y.U. Review of Law and Social Change 51 (2014) [SSRN]
The "Other" "Missouri Model": Systemic Juvenile Injustice in the Show Me State, 78 Missouri Law Review 1193 (2013)(invited/symposium article) [SSRN]
Feminist Legal Realism, 35 Harvard J. of L. and Gender 1 (2012) [SSRN]
The Fallout from our Blackboard Battlegrounds: A Call for Withdrawal and a New Way Forward, 15 Iowa J. of Gender, Race & Justice 541 (2012)(invited/symposium article) [SSRN]
Evolving Standards in Juvenile Justice: Gault, Graham, Beyond, 38 Wash. U.J. of L. and Policy 1 (2012)
The Modern Problem-Solving Court Movement: Domination of Discourse and Untold Stories of Criminal Justice Reform, 31 Wash. U. J. of L. and Policy 57 (2010)(invited/symposium article) [SSRN]
Teaching Public Citizen Lawyering, 8 Seattle J. of Social Justice 661 (2010) [SSRN]
Problem Solving Courts: A Conversation with Experts, 10 Maryland J. of Race, Religion, Gender & Class 137 (2010)(invited/symposium transcript)
Reconceptualizing Competence: An Appeal, 66 Washington & Lee L. Rev. 259 (2009) [SSRN]
Anna Moscowitz Kross and the Home Term Part: A Second Look at the Nation's First Criminal Domestic Violence Court, 41 Akron L. Rev. 733 (2008)(invited/symposium article) [SSRN]
An RSVP to Professor Wexler's Warm TJ Invitation to the Criminal Defense Bar: Unable to Join You, Already (Somewhat Similarly) Engaged, 48 Boston College L. Rev. 539 (2007) [SSRN]
Revisiting Anna Moscowitz Kross's Critique of Women's Court: The Continued Problem of Solving the "Problem" of Prostitution with Specialized Criminal Courts, 33 Fordham Urb. L. J. 665 (2006)(invited/symposium article) [SSRN]
Whose Team am I on Anyway? Musings of a Public Defender about Drug Treatment Court Practice, 26 N.Y.U. Rev. of L. and Social Change 37 (2001) [SSRN]
Some Reflections on the Federal Judicial Role During the War on Drugs (co-authored with Hon. Jack B. Weinstein), in The Judicial Role in Criminal Proceedings (Hart Press 2000)
Terry, Race, and Judicial Integrity: The Court and Suppression During the War on Drugs, 72 St. John's L. Rev. 1323 (1998)(co-authored with Hon. Jack B. Weinstein)
Courses
Substantive law of crimes, including principles of punishment, elements of typical crimes, responsibility and defenses.
Registration priority given to second-year students. A study of the law governing the proof of issues of fact before a judicial tribunal. Topics covered may include judicial notice, presumptions, burden of proof, hearsay, relevancy, testimonial proof, demonstrative and scientific proof, documentary proof and privileged communications. Emphasis is placed on the Federal Rules of Evidence.
This seminar will expose students to contemporary issues in juvenile law, policy, and practice, through readings, individualized research, community engagement, and interaction with organizations involved in juvenile and criminal justice reform in Florida and across the country. Our work will focus in particular on juvenile pre-trial detention, sentencing, incarceration, and community re-entry.
Over the last thirty years, thousands of specialized "problem-solving" courts have opened across the United States. Examples of these specialty justice venues, established primarily to resolve criminal cases, include drug treatment, mental health, and community courts. This course will consider factors contributing to this recent phenomenon, survey the various types of specialty courts that have been established, analyze the particularized features and functions of these institutions, and compare them to other criminal courts, past and present. We will explore the potential legal and ethical issues presented by "problem-solving" courts and the "problem-solving court movement," along with other justice system implications, including the future of such institutions in this country. This course is a seminar and satisfies the upper-level writing requirement.
The Criminal Defense Clinic provides students with an opportunity to defend indigent clients charged with criminal offenses under the direct supervision of a licensed Criminal Defense Attorney.