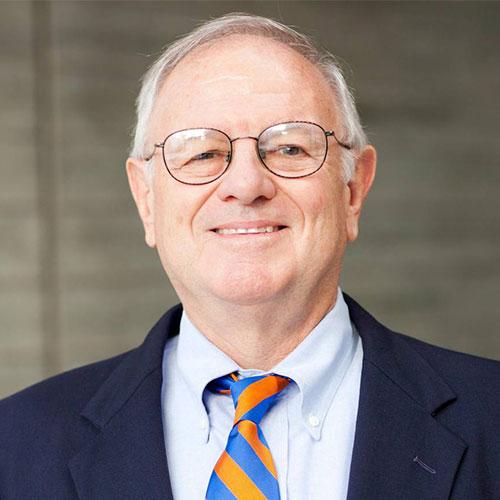 Martin J. McMahon Jr.
James J. Freeland Eminent Scholar
Emeritus Professor
Mailing Address:
Box #117625 Gainesville, FL 32611
Email:
mcmahon@law.ufl.edu
Phone:
(352) 273-0931
About
Martin J. McMahon, Jr., is the James J. Freeland Eminent Scholar in Taxation and Director of the Graduate Tax Program. He is a previous Editor-in-Chief of the Florida Tax Review. He received a B.A. in Economics from Rutgers University in 1971, a J.D. from Boston College Law School in 1974, and an LL.M. in Taxation from Boston University Law School in 1978. Professor McMahon taught at the University of Kentucky from 1979 to 1997, and was a visiting professor at the University of Virginia for the 1982-1983 academic year. He was Professor-in-Residence in the Office of Chief Counsel of the Internal Revenue Service in 1986 and 1987, and has been an instructor in the NYU/IRS Continuing Professional Education Program.
Professor McMahon is coauthor, with Boris Bittker and Lawrence Zelenak, of the treatise Federal Income Taxation of Individuals (Warren, Gorham & Lamont, 3d ed., 2002). He is also coauthor, with the late Paul McDaniel and Daniel Simmons, of four casebooks: Federal Income Taxation (Foundation Press, 6th ed., 2008), Federal Income Taxation of Business Organizations (Foundation Press, 5th ed., 2014), Federal Income Taxation of Corporations (Foundation Press, 4th ed., 2014), and Federal Income Taxation of Partnerships and S Corporations (Foundation Press, 5th ed., 2012). He also has published over fifty scholarly articles on a wide variety of income taxation issues, including corporate taxation, partnership taxation, tax shelters, individual income taxation, and tax policy.
Professor McMahon is a frequent speaker at tax conferences around the United States and has made over 200 CLE presentations. He has lectured on U.S. taxation in a number of other countries, including Sweden, Germany, Poland, England, the Netherlands, Peru, and Chile. He has chaired the Teaching Taxation Committee of the ABA Tax Section and the Tax Section of the Association of American Law Schools. Professor McMahon is a fellow in the American College of Tax Counsel and a life member of the American Law Institute.
Education
LL.M., Taxation, Boston University
J.D., Boston College (cum laude)
B.A., Rutgers University (cum laude)
Professional Activities
University of Florida: Joined College of Law faculty in 1997. Named Clarence J. TeSelle Professor of Law in 1998. Visiting Hugh F. Culverhouse Eminent Scholar in Taxation, 1991.
Previous Academic:
University of Kentucky College of Law – Faculty 1979-97, Laramie L. Leatherman Professor of Law 1991-97, Michael R. and Joanne Duncan Outstanding Teaching Award 1993, UK Alumni Association 'Great Teacher Award' 1996.
University of Virginia School of Law – Visiting Faculty 1982-83.
New York University – Internal Revenue Service CPE Program (Washington, D.C.) 1996.
Private Practice: Professor-in-Residence, Office of Chief Counsel, Internal Revenue Service, Washington, D.C., 1986-87; Hamblett & Kerrigan, Nashua, N.H., 1974-79.
Organizations: American College of Tax Counsel, American Law Institute, American Bar Association Section on Taxation (Committee on Teaching Taxation (Chair 2000-02)), Association of American Law Schools (Tax Section Chair 1996), National Tax Association, Theodore Tannenwald Jr. Foundation for Excellence in Tax Scholarship (Academic Advisory Board).
Courses
Designed to teach the fundamentals of federal income taxation in order to prepare students, as lawyers, to recognize and appreciate income tax consequences of transactions and events they encounter in general practice of law.
Addresses income tax topics which might be encountered by a general practitioner advising a closely held corporation and its investors. Income tax consequences of transfers of property and services to a corporation, distributions to investors, and corporate liquidations and mergers will be explored. Coverage given to tax treatment of "S Corporations," an increasingly important choice of entity for small businesses.
A general practitioner is likely to encounter many business enterprises (including law firms) engaging in business in the form of a partnership. This course addresses taxation of partnerships and tax consequences of partnership formation or termination, distributions of money or property to partners, and consequences of sale or exchange of a partnership interest or of the death of a partner.
Tax considerations in corporate formations, distributions, redemptions and liquidations, including Subchapter C and Subchapter S corporations. Consideration of alternatives relating to the sales of corporate businesses.
Corporate reorganizations; corporate acquisitions and divisions, including transfer or inheritance of losses and other tax attributes; corporate penalty taxes; consolidated returns provisions. Prerequisites:
Publications
Books
Cumulative Supplement to Federal Income Taxation of Individuals, Supplement 1, Third Edition (with Boris I. Bittker & Lawrence A. Zelenak) (Warren, Gorham & Lamont, 2002) (January 2015)
Cumulative Supplement to Federal Income Taxation of Individuals, Supplement 2, Third Edition (with Boris I. Bittker & Lawrence A. Zelenak) (Warren, Gorham & Lamont, 2002) (July 2015)
Federal Income Taxation of Business Organizations (with Paul McDaniel (deceased) and Daniel L. Simmons) (Foundation Press 1991, 2d ed. 1997, 3d ed., 1999, 4th ed., 2006, 5th ed., 2014)
Federal Income Taxation of Corporations (with Paul McDaniel (deceased) and Daniel L. Simmons) (Foundation Press 1997, 2d ed., 1999, 3rd ed., 2006, 4th ed., 2014)
Federal Income Taxation of Partnerships and S Corporations, (5th ed.) and Study Problems (with Paul McDaniel (deceased) and Daniel L. Simmons) (Foundation Press, 2012)
Co-editor, The Proper Tax Base: Structural Fairness From an International and Comparative Perspective – Essays in Honor of Paul McDaniel (with Yariv Brauner) and contributor of chapter, "Taxing Tax Expenditures" (Kluwer Law International, 2012)
Federal Income Taxation (with Paul McDaniel (deceased) and Daniel L. Simmons) (Foundation Press, 1995, 4d ed., 1998, 5th ed., 2004, 6th ed., 2008)
Federal Income Taxation of Individuals (with Boris Bittker and Lawrence Zelenak) (Warren, Gorham & Lamont 1988, 2d ed.1995, 3d ed., 2002)
Articles
Recent Developments in Federal Income Taxation: The Year 2016 (with Bruce A. McGovern), 20 Fla. Tax Rev. 131 (2017) [SSRN]
Rethinking Taxation of Privately Held Businesses, 69 The Tax Lawyer 345 (2016) [SSRN]
Recent Developments in Federal Income Taxation: The Year 2014 (with Ira B. Shepard & Bruce A. McGovern), 17 Fla. Tax Rev. 297 (2015) [SSRN]
Recent Developments in Federal Income Taxation: The Year 2012 (with Ira B. Shepard & Daniel L. Simmons), 13 Fla. Tax Rev. 503 (2013) [SSRN]
Now You See It, Now You Don't: The Comings and Goings of Disregarded Entities, 65 The Tax Lawyer 259 (2012) [SSRN]
Recent Developments in Federal Income Taxation: The Year 2011 (with Ira B. Shepard and Daniel L. Simmons), Fla. Tax Rev. 183 (2012) [SSRN]
Understanding Consolidated Returns, 12 Fla. Tax Rev. 125 (2012) [SSRN]
Consolidated Corporate Income Tax Returns in the United States Svensk Skattetidning 597 (2011)
Recent Developments in Federal Income Taxation: The Year 2010 (with Ira B. Shepard and Daniel L. Simmons), 10 Fla. Tax Rev. 569 (2011) [SSRN]
Taxing Tax Expenditures 130 Tax Notes 775 (2011) [SSRN]