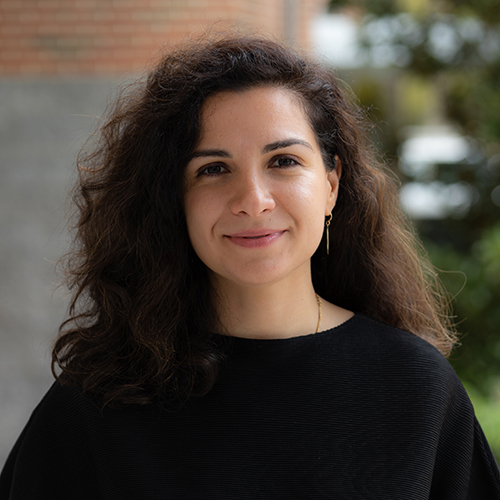 Maryam Jamshidi
Assistant Professor of Law
About
Professor Jamshidi teaches and writes in the areas of national security, public international law, the law of foreign relations, and tort law. In particular, her scholarship focuses on the relationship between the private sphere and national security law as well as the law of foreign relations. In exploring these dynamics, Professor Jamshidi's work draws on political and critical theory, as well as sociology. Her work has appeared or is forthcoming in the Washington University Law Review, the Southern California Law Review, the University of Chicago Law Review, the University of Colorado Law Review, and Hastings Law Journal. She also regularly publishes in popular media outlets.
Prior to joining the Levin College of Law, Professor Jamshidi served as an Assistant Professor of Lawyering at the NYU Law School. She also worked as an associate in several leading Washington D.C. law firms, including White & Case, where she worked primarily on issues relating to national security and foreign relations law. Professor Jamshidi clerked for the Honorable Judge Gladys Kessler of the U.S. District Court for the District of Columbia.
Education
University of Pennsylvania Law School, JD
London School of Economics, MSc in Political Theory with merit
Brown University, AB in Political Science with honors

Courses
An introduction to international law as applied between nations and in United States courts.
This course explores the what and how of national security. Specifically, what does national security mean and how does it play out institutionally, jurisprudentially, and policy-wise in the United States? Combining historical, legal, and normative perspectives, this course explores how the meaning of national security has shifted and expanded over time. Rather than being exclusively limited to notions of war and foreign policy, the concept of national security also intersects with a wide-range of domestic legal and policy issues, from civil rights and immigration, to private law, business, and environmental and economic issues. Instead of presenting a rigid notion of national security, this course aims to chart the term's complexity, malleability, and capacity to serve ends that are both corrosive and supportive of the public good.
Publications
Academic:
The Political Economy of Foreign Sovereign Immunity, Hastings L.J. (forthcoming). [SSRN]
The Discriminatory Executive & the Rule of Law, 92 U. Col. L. Rev. 77 (2020). [SSRN]
The Federal Government Probably Can't Order Statewide Quarantines, U. Chicago L. Rev. Online (April 20, 2020). [Link]
The Climate Change Crisis Is a Human Security, Not a National Security, Issue, 93. S. Cal. L. Rev. Postscript 36 (2019). [SSRN]
How the War on Terror is Transforming Private U.S. Law, 96 Wash. U. L. Rev.  559 (2018). [SSRN]
The International Criminal Court and the Arab Spring: Overcoming Bias, Increasing Engagement,in Human Rights, Human Security, and State Security: The Intersection (Saul Takahashi ed.) (Praeger 2014).
The Future of the Arab Spring: Civic Entrepreneurship in Politics, Art, and Technology Startups (Butterworth-Heinemann 2013).
Human Development & Public Engagement: Making Transitional Justice Work for the Arab Spring, 9 Georgetown University Journal of Democracy & Society2 (2012).
Mainstream Press:
How Law Can Make War Inhumane and Banal, Volkerrrechtsblog, June 23, 2021.  [Link]
Embracing Diversity and Critical Perspectives in National Security Law, Just Security, October 30, 2020 (with Emily Berman). [Link]
What a Few Cakes Say About the US Drone Program, Just Security, September 16, 2020. [Link]
Bringing Abolition to National Security, Just Security, August 27, 2020. [Link]
The War on Terror's Reeducation Camps, Jacobin, Jan. 12, 2019
How Transitional Justice Can Affect Yemen's Future, The Washington Post, Dec. 20, 2018
The National Security Rationale, NPR – All Things Considered, July 6, 2018
The Travel Ban: Part of a Broad National Security Exceptionalism in U.S. Law, Just Security, July 3, 2018 [Link]
The Supreme Court's Decision to Hear Travel Ban Cases Does Not Bode Well for Civil Liberties, Just Security, July 6, 2017 [Link]