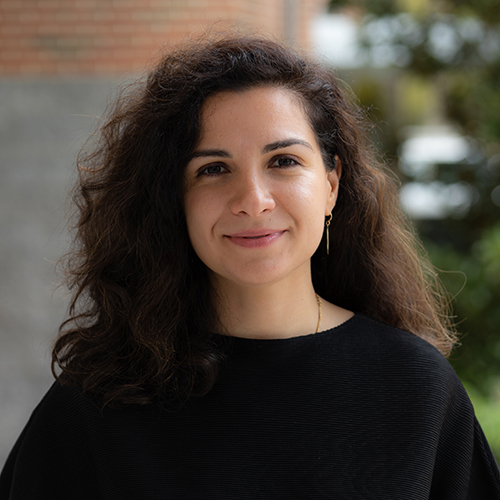 Maryam Jamshidi
Assistant Professor of Law
Mailing Address:
Spessard L. Holland Law Center
PO Box 117620
Gainesville, FL 32611
Email:
jamshidi@law.ufl.edu
Phone:
352-273-0756
About
Professor Jamshidi teaches and writes in the areas of national security, public international law, the law of foreign relations, and tort law. Her scholarship examines the various ways in which private law, particularly torts, shapes and is transformed by public laws touching on national security and international law matters. In exploring these dynamics, Professor Jamshidi's work draws on political and critical theory, as well as sociology. Her work has appeared or is forthcoming in the Washington University Law Review, the Southern California Law Review, the University of Chicago Law Review, and the University of Colorado Law Review. She also regularly publishes in popular media outlets.
Prior to joining the Levin College of Law, Professor Jamshidi served as an Assistant Professor of Lawyering at the NYU Law School. She also worked as an associate in several leading Washington D.C. law firms, including White & Case, where she worked primarily on issues relating to national security and foreign relations law. Professor Jamshidi clerked for the Honorable Judge Gladys Kessler of the U.S. District Court for the District of Columbia.
Education
University of Pennsylvania Law School, JD
London School of Economics, MSc in Political Theory with merit
Brown University, AB in Political Science with honors
Professional Activities
Council of Foreign Relations, term member; American Society of International Law, member
Courses
This seminar combines history, law, and critical theory to explore how the concept of national security has evolved over time, the rise of the National Security State, and the ways in which national security impacts particular racial, religious, and ethnic groups in the United States.
The central question in Torts is how society should respond to the problem of high dollar typically accidental physical harm, when injury is unfortunate, but unintended. Our course will focus mostly on the problem of unintentional harm, as applied to bodily and emotional harms. Theories covered will include negligence, strict liability, products liability and intentional torts as well as all their affirmative defenses. As there are seldom clear answers with legal questions spanning so many perspectives, and amorphous factual inquiries (including the role of the judge and jury, circumstantial evidence and fundamental problems), Torts trains students to answer timeless amorphous questions, thereby developing keen policy and argumentation skills, applicable to a wide variety of legal areas.
Publications
Academic:
The Discriminatory Executive, 92 U. Col. L. Rev. _ (forthcoming 2020).
The Federal Government Probably Can't Order Statewide Quarantines, U. Chicago L. Rev. Online (April 20, 2020). [Link]
The Climate Change Crisis Is a Human Security, Not a National Security, Issue, 93. S. Cal. L. Rev. Postscript 36 (2019). [SSRN]
How the War on Terror is Transforming Private U.S. Law, 96 Wash. U. L. Rev.  559 (2018). [SSRN]
The International Criminal Court and the Arab Spring: Overcoming Bias, Increasing Engagement,in Human Rights, Human Security, and State Security: The Intersection (Saul Takahashi ed.) (Praeger 2014).
The Future of the Arab Spring: Civic Entrepreneurship in Politics, Art, and Technology Startups (Butterworth-Heinemann 2013).
Human Development & Public Engagement: Making Transitional Justice Work for the Arab Spring, 9 Georgetown University Journal of Democracy & Society2 (2012).
Mainstream Press:
Embracing Diversity and Critical Perspectives in National Security Law, Just Security, October 30, 2020 (with Emily Berman). [Link]
What a Few Cakes Say About the US Drone Program, Just Security, September 16, 2020. [Link]
Bringing Abolition to National Security, Just Security, August 27, 2020. [Link]
The War on Terror's Reeducation Camps, Jacobin, Jan. 12, 2019
How Transitional Justice Can Affect Yemen's Future, The Washington Post, Dec. 20, 2018
The National Security Rationale, NPR – All Things Considered, July 6, 2018
The Travel Ban: Part of a Broad National Security Exceptionalism in U.S. Law, Just Security, July 3, 2018 [Link]
The Supreme Court's Decision to Hear Travel Ban Cases Does Not Bode Well for Civil Liberties, Just Security, July 6, 2017 [Link]