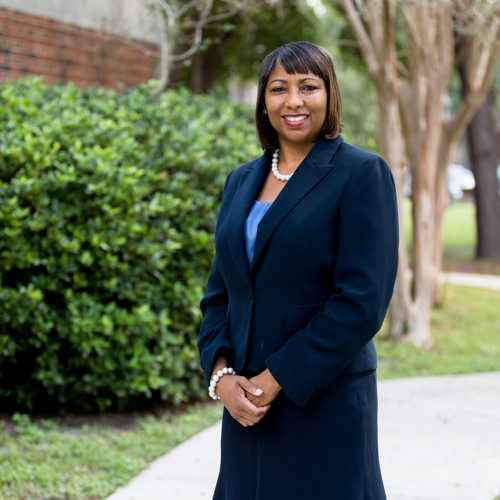 Meshon Rawls
Master Legal Skills Professor
Mailing Address:
Box #117626 Gainesville, FL 32611
Email:
rawls@law.ufl.edu
Phone:
(352) 273-0813
Expertise
About
Meshon T. Rawls is a Master Legal Skills Professor and the Director of the Gator TeamChild Juvenile Law Clinic at the University of Florida Levin College of Law. Most of her legal career has been devoted to advocating for the rights of children. As the director of Gator TeamChild she supervises law students who provide representation to children primarily in delinquency, dependency, and educational proceedings. Under her leadership, law students learn how to advocate for the rights of children and the importance of providing holistic representation.
Prior to joining the law school, she worked for seven years at the Eighth Judicial Circuit Public Defender's Office, where she represented indigent clients in the juvenile, misdemeanor, and felony divisions. She has also been certified by the Florida Supreme Court as a County Court Mediator. Currently, she will begin serving as president of the Eighth Judicial Circuit Bar Association in June of 2017. She is the Past President of the Josiah T. Walls Bar Association, a member of the James Adkins Inn of Court, a graduate of the Florida Bar Leadership Academy Class II, a fellow of the Florida Bar Foundation, and the coordinator for the Alachua County Restoration of Civil Rights project. She was most recently appointed to two Florida Bar committees – the Juvenile Law Certification Committee and Voluntary Bar Liaison Committee. She previously served on the Florida Supreme Court Steering Committee on Families and Children in the Courts, the Florida Bar Legal Needs of Children Committee, the Alachua County Juvenile Justice Council and the Eighth Judicial Circuit Grievance Committee. As a strong proponent of keeping children out of the juvenile justice system, she has served in various capacities with several diversion programs – the Alachua County Neighborhood Accountability Board, Project Turnaround, and Teen Court. In 2009, she developed the handbook Your Future, Your Choice – A guide to what every teen should know about the law.
Rawls received a B.A. degree in Criminal Justice from the University of Florida and a J. D. degree from the University of Florida Levin College of Law.
Education
J.D., University of Florida
B.A., University of Florida
Teaching & Scholarship
Juvenile Law, Children's Rights
Professional Activities
University of Florida: Joined College of Law faculty in 2006 as Legal Skills Professor and Director of Gator TeamChild, Juvenile Law Clinic.
Professional Experience: Assistant Public Defender, 8th Judicial Circuit (1998-2006)
Professional Affiliations: Alachua County Juvenile Justice Council; American Bar Association; Florida Bar Association (Public Interest Law Section); Florida Supreme Court Steering Committee on Families and Children in the Court; Josiah T. Walls Bar Association.
Courses
This course loosely tracks what students would learn in the interviewing and counseling portion of UFLaw's traditional course: Interviewing, Counseling, and Negotiation. It is split into two main components. First, students learn the theory behind the skills and models of how to apply them. Second, students practice these skills through simulated client conferences and critique. Part 1 of the course is delivered via web. In Part 2 of the course, students meet in small group with other students and clinic faculty to practice skills with live feedback.
An examination of theories and skills involved in interviewing and counseling clients, and basic negotiation skills. Readings, videotapes, role plays, and simulations will be used.
Students enrolled in the Gator TeamChild juvenile advocacy clinic provide free legal services to indigent children. At CLI's, students advocate for children in all types of civil, criminal, and administrative proceedings. As part of their training, social workers and other mental health professionals introduce students to therapeutic approaches focused on resolving each child's problem in a holistic way.
Advanced Civil Clinic: Juvenile students return to enhance their learning and refine their lawyering skills through client representation, leadership, and mentoring other clinic students.